id:a1209034236b1672752
2007 Volkswagen Touareg
Photo #1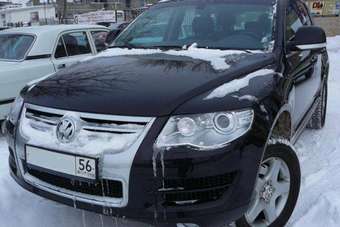 Photo Information (Width: 340px, Height: 227px, Size: 13Kb)
New to the Volkswagen family is the 2004 Touareg 4WD SUV. The line-up consists of four models: Touareg V6, Touareg V8, Touareg V8x, and the Touareg V10 TDI. Engine choices range from a 220 hp V6 to the 310 hp Turbo Diesel, which produces 553 lb.-ft. of torque. All models come standard with illuminated keyless remote control entry system, aluminum alloy wheels, Hill Descent Control, Stability Program, power glass moonroof and rain sensing intermittent windshield wipers.
2007 Volkswagen Touareg specs
"Touareg" redirects here.

The Volkswagen Touareg is a mid-size sport utility vehicle (SUV) produced by German automaker Volkswagen since 2003. It was the second Sport Utility Vehicle from the automaker, after the much older Volkswagen 181 "Kurierwagen".
Used Volkswagen Touareg
The correct German pronunciation is Tou-a-reg, something like "too" plus a quick "ah" then the "reg". VW produced several commercials to enable people to pronounce the name which was predicted to be too difficult.

The Touareg was a joint project developed by Volkswagen and Porsche, who were also looking to add a luxury-type SUV to its lineup, as a cost-sharing initiative. The goal was to create an off-road vehicle that could handle like a sports car. The team, with over 300 people, was lead by Klaus-Gerhard Wolpert, and was based in Weissach im Tal, Germany. The result of the joint project is that the Porsche Cayenne shares the Touareg's Volkswagen Group 7L platform, although there are styling, equipment, and technical differences between the two vehicles.

The Volkswagen Touareg is built in Bratislava, Slovakia. The manufacturing plant shares production with Touareg-cousins, the Porsche Cayenne, and the Audi Q7. Due to the demand, and the exchange rates of euros against the US dollar, as well as different pricing and environmental policies in the USA, the V6 and V8 engine variants make up most of Volkswagen's American Touareg offering. However, a limited number of the V10 TDI diesel were available in the 2004 model year (before being pulled for environmental reasons). They were brought back to the United States for the 2006 as a "Tier I emissions concept (43 state emissions)"



» Read More About Volkswagen Touareg