id:a1251459149b2988048
2001 Suzuki Cultus
Photo #1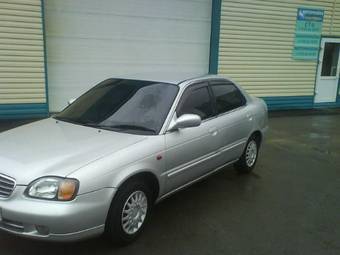 Photo Information (Width: 340px, Height: 255px, Size: 10Kb)
More photos of
Suzuki Cultus
Suzuki Cultus Problems
Heater core
2018, Gari ki heater core leak hui to mai ny
change krwa dii 6 monts k bad ab phr leak ho
gyi ...
Rpm idling and down problems
2018, I've Suzuki cultus vxr 2018. It has
two problems. I don't know what's the...
Heating Issue
2007, i have old cultus its raditor water goes
down on every trip of 25KM on early morning i p...
| | |
| --- | --- |
| Engine size - Displacement - Engine capacity: | 1493 cm3 |
| Transmission Gearbox - Number of speeds: | Automatic |
| Fuel Type: | Gasoline |
| Drive wheels - Traction - Drivetrain: | FF |
| Price (out of date): | $5183 |
2001 Suzuki Cultus specs, Engine size 1.5l., Fuel type Gasoline, Drive wheels FF, Transmission Gearbox Automatic
| | |
| --- | --- |
| | The Suzuki Cultus is a supermini first presented at the 25th Tokyo Motor Show, formally introduced to the Japanese domestic market in 1983 and ultimately manufactured in seven countries across three generations and marketed worldwide under more than a dozen nameplates — prominently as the Geo Metro and Suzuki Swift. |
Used Suzuki Cultus
Offered across its lifespan in four body-style variations with engines from the Suzuki G engine family, the Cultus remains in production both in China and Pakistan.
The name Cultus derives from the Latin cultus, meaning "care" or "adoration."
Generation I
The first generation of the Cultus was designed and developed by Suzuki for the Japanese Domestic Market (JDM) and introduced as the 1983 SA310, the name shortly thereafter changed to Cultus. After GM and Suzuki formed an alliance in 1981, GM imported the Cultus as a captive import, introducing it to the North American market as the 1985 Chevrolet/ Geo Sprint.
Suzuki Cultus Generation I:
3= 3-dr hatchback 5= 5-dr hatchback a. Initially marketed as the SA-310 b. Also Hawaii, Guam, N. Marianas and test marketing USA 48 states. c. Canada's "Chevrolet" Sprint model ran through 1991 d. Manufactured at GM Colmotores, Bogotá, Colombia
Generation II
The second generation, introduced in 1989, had been designed at GM's Technical Center in Warren, Michigan, and was designated the GM M platform. Equipped with engines and drivetrains developed by Suzuki, The second generation offered new styling and four wheel independent strut suspension.



» Read More About Suzuki Cultus