id:a1218726345b1964596
2006 Opel Astra
Photo #1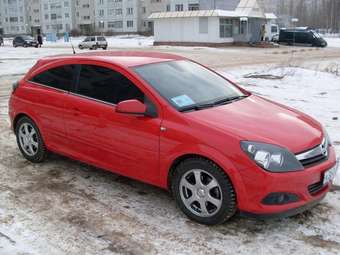 Photo Information (Width: 340px, Height: 255px, Size: 14Kb)
More photos of
Opel Astra
Opel Astra Problems
Power
2000, When I start it up and when i drive away
it jerks and doesn't give that power that...
Engine
2006, [09/09, 7:58 pm] Jerome Brijmohan: opel
astra 1.4 essentia 2006 [09/09, 8:00 pm]
Jerome...
Computer system
2013, computer system shut down while driving
on motorway. Breakdown service could not repair
...
2006 Opel Astra specs
See also Vauxhall Astra and Holden Astra for the usage of the nameplate by other General Motors subsidiaries.

The Opel Astra is a small family car designed and manufactured by Opel, the European subsidiary of General Motors.

It is branded as an Opel in continental Europe, the Republic of Ireland, the Middle East, North Africa, Russia and South Africa, as Vauxhall in the United Kingdom, as Holden in Australasia, as Chevrolet in Latin America and as Saturn in the United States and Canada.
Used Opel Astra
The Astra is now built in Germany, Belgium, the United Kingdom, Brazil, South Africa, Poland and Ukraine, as well as being assembled in complete knock down (CKD) kits in other countries.

As of 2006, there have been three generations of the vehicle. In a fashion typical for Opel models, they are designated with subsequent letters of the Latin alphabet. Opel's official convention is to continue the Opel Kadett lineage, thus referring to the first generation of Opel Astra as the Astra F (the last Opel Kadett was the Kadett E). Another convention used by GM starts with Astra A, adopting the notion that the Astra is a separate model. Models sold as Vauxhall, Holden or Chevrolet have different generation designations reflecting the history of those nameplates in their home markets and their naming conventions.

The Astra F debuted in 1991. With the Kadett E's successor, Opel adopted the Astra nameplate, which was already used by Vauxhall for the Kadett D and E (see Vauxhall Astra). It was offered as a three or five-door hatchback, a saloon (sedan), and an estate (wagon), known as the Caravan. A cabriolet was also offered, designed and built by Bertone in Italy. This car was offered in Central and Eastern Europe, as well as Turkey for name Astra Classic for 1998 to 2002. The Astra F finished production in 2002.



» Read More About Opel Astra