id:a1242965451b2711383
2001 Mazda Bongo Brawny
Photo #1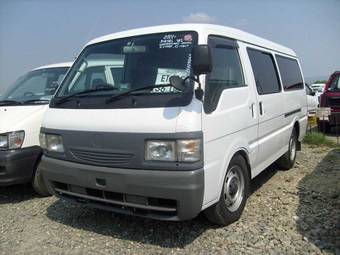 Photo Information (Width: 340px, Height: 255px, Size: 15Kb)
| | |
| --- | --- |
| Engine size - Displacement - Engine capacity: | 2500 cm3 |
| Transmission Gearbox - Number of speeds: | Automatic |
| Fuel Type: | Diesel |
| Drive wheels - Traction - Drivetrain: | FR or RR |
| Price (out of date): | $7500 |
2001 Mazda Bongo Brawny specs, Engine size 2.5l., Fuel type Diesel, Drive wheels FR or RR, Transmission Gearbox Automatic
The Mazda Bongo is a van manufactured by Mazda of Japan. Since 1978, it has been exported as the Mazda E-Series and as the Ford Econovan.

Mazda introduced its small van, the Bongo, in 1966. It featured a 782cc water-cooled 4-stroke engine driving the rear wheels. The rear engined Bongo was produced in two versions, the F800 and the F1000 between 1968 - 1978. This model retained the same body shape for its 10 year production life, the later models fitted with inertia-reel seat belts, and separate front parking indicator lights. The rear engine Bongos had a full chassis (shared with the Mazda 1000, using the same engine mounted to a transaxle at the rear) and were very strong and due to the low gearing, able to carry one ton. Due to rust and poor maintenance, the rear engined Bongos are now few and far between. Exact numbers are not known, but a worldwide register is currently being constructed to track all remaining examples.
Used Mazda Bongo Brawny
The next Bongo van appeared in 1978. It was a mid-engine rear wheel drive vehicle. Ford sold this version of the van as the Ford Econovan, while Mazda sold it for export as the E1300, E1400, and E1600, depending on engine size.
Engines:
1978 1.3L TC, 60hp (44kW)
1978-1982 1.6L NA, 80hp (59kW)
1979-1980 1.4L UC, 70hp (52kW)
The Bongo was redesigned for 1983 with new engines. A new long-wheelbase version known as the Bongo Brawny was introduced.
Engines:
1983-1988 2.0L FE
1983-1988 2.0L RF Diesel
1983-1988 2.2L S2 Diesel
The SS platform Bongo lasted from 1989 until 1998. This van was also sold by Nissan as the Vanette.
The SG platform Bongo Friendee was introduced in 1995. Ford began selling the Friendee in the Japanese home market as the Ford Freda.
Petrol Engines:
2.0L RS-V I4
2.5L RF-V V6
Diesel Engines:



» Read More About Mazda Bongo Brawny