id:a1236429869b2524664
2007 Land Rover Defender
Photo #1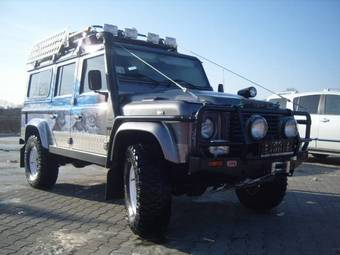 Photo Information (Width: 340px, Height: 255px, Size: 13Kb)
| | |
| --- | --- |
| Engine size - Displacement - Engine capacity: | 2500 cm3 |
| Transmission Gearbox - Number of speeds: | Automatic |
| Fuel Type: | Gasoline |
| Drive wheels - Traction - Drivetrain: | 4WD |
| Price (out of date): | $120000 |
2007 Land Rover Defender specs, Engine size 2.5l., Fuel type Gasoline, Drive wheels 4WD, Transmission Gearbox Automatic
| | |
| --- | --- |
| | The Land Rover Defender is a British four wheel drive Off-road utility vehicle. It is the product of continued development of the original utility Land Rover Series I launched in 1948. Using the basic yet robust underpinnings of a ladder frame chassis and aluminium body, the Defender is available in a huge variety of body types (as of 2007, 20000 major body types are available from the factory, plus many more specialist versions such as fire engines, hydraulic platforms and military versions). Defenders are used for a very wide variety of purposes- from agricultural and industrial users to a large number of military customers. Defenders are also a common choice for use on expeditions and surveys throughout the world. As well as these more traditional roles, in recent years the Defender has been increasingly used by families and individuals as a private car. |
Used Land Rover Defender
The Defender was not an entirely new model at launch. It used engines and body panels carried over from the Series III Land Rover; gearbox, axles and suspension from the Range Rover.
Production of the model now known as the Defender began in 1983 as the Land Rover One Ten, a simple name which reflected the 110 inch (2.794 m) length of the wheelbase. The Land Rover Ninety, with 93inch (2.362m) wheelbase, and Land Rover 127, with 127in (3.226m) wheelbase, soon followed.
Outwardly, there is little to distinguish the post-1983 vehicles from the Series III Land Rover. A full-length bonnet, revised grille, plus the fitting of wheel arch extensions to cover wider-track axles are the most noticeable changes. Mechanically the Ninety and One Ten were a complete modernisation of the former Series platform. Specifically:
The use of coil springs, whereas Series vehicles had leaf springs. This gave a more comfortable ride and improved axle articulation.
A permanent four-wheel drive system as used since 1970 on the Range Rover, featuring a two-speed transfer gearbox with a lockable centre differential.
As part of the update, a new series of progressively more powerful and more modern engines were designed, although the Series III engine line-up remained in place when the vehicles were first launched.
The interior was modernised; a taller one-piece windscreen replaced the split-screen of the Series models.
The One Ten was launched in 1983, and the Ninety followed in 1984. From 1984, wind-up windows were fitted (Series models and very early One Tens had sliding panels), and a 2.5-litre, 68hp (51kW) diesel engine was introduced. This was based on the earlier 2.3-litre engine, but had a more modern fuel-injection system as well as increased capacity. A low compression version of the 3.5-litre V8 Range Rover engine was available too which transformed performance.



» Read More About Land Rover Defender