id:a1267473602b3410981
Hyundai enters the SUV market with the 2001 Santa Fe. All models, except the Base 2WD, come equipped with 4-wheel disc brakes, a 2.7L 6-cylinder engine and a 4-speed Shiftronic automatic transmission.
2010 Hyundai Santa FE
Photo #1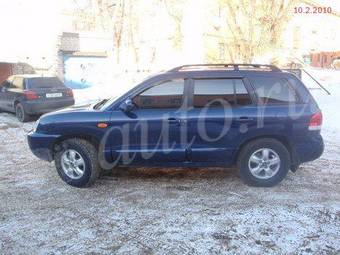 Photo Information (Width: 340px, Height: 255px, Size: 17Kb)
| | |
| --- | --- |
| Engine size - Displacement - Engine capacity: | 2700 cm3 |
| Transmission Gearbox - Number of speeds: | Automatic |
| Fuel Type: | Gasoline |
| Price (out of date): | $24126 |
2010 Hyundai Santa FE specs, Engine size 2700cm3, Fuel type Gasoline, Transmission Gearbox Automatic
| | |
| --- | --- |
| | The Hyundai Santa Fe is a compact/ mid-size crossover SUV based on the Hyundai Sonata platform. It was introduced for the 2001 model year as Hyundai's first SUV, released at the same time as the Ford Escape/ Mazda Tribute and Pontiac Aztek. The car was a milestone in the company's restructuring program of the late 1990s because, despite receiving criticism from journalists for its obscure looks, the car was a hit with the American buyers. The car was so popular that at times, Hyundai had trouble supplying the demand. The Santa Fe quickly became Hyundai's best seller and contributed to Hyundai's success in the United States. As of 2007, the Santa Fe falls between the Tucson and the related Veracruz (which was preceded by the Terracan). |
Used Hyundai Santa FE
The 2nd Gen Hyundai Santa Fe was awarded 2008 Consumer Reports "top pick" and was among the top 10 vehicles for 2008 unveiled in the magazine's issue. The magazine's annual ratings, based on road tests and predicted safety and reliability, are considered highly influential among consumers.
2001
In its first year in production, the Santa Fe was offered with one of two engine and transmission combinations. In North America, a fuel-efficient although underpowered 2.4L four cylinder engine was standard equipment and could be mated with either a 5-speed manual or a 4-speed automatic. A 2.7L (2656cc, 162cuin) Delta V6 offered more power than the four-cylinder but was only available with the automatic. Front wheel drive was standard (with traction control optional with the V6) and 4WD was optional. A 2.0L Common Rail Turbo Diesel (CRTD) was offered outside the United States. Australian Santa Fes went on sale in November 2000 with only one engine/ transmission choice - a 2.7L V6 mated to a four-speed semi-automatic transmission. 4WD was standard. A cheaper 2.4L four cylinder joined the range several months later in 2001, but was only available with a manual transmission.



» Read More About Hyundai Santa FE