The History Of Nissan Vanette Truck
---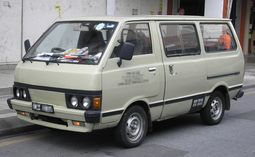 The Nissan Van C22, also called Nissan Vanette, Nissan Sunny-Vanette, or Nissan Van, is a van produced by Japanese automaker Nissan since 1981. The passenger version is called the Vanette in most markets, and came equipped with multiple engine and drivetrain configurations. Engines for Japan included A12S, A15s, CA20S, CA18T, LD20 and LD20S. 2WD and 4WD versions were produced, with manual, automatic, floor and column shift options available. While no longer produced for the Japanese market, it is still available in other markets around the world such as Malaysia. While it has had a few facelifts over the years, the basic van is still the same. The 1980s interior is still intact as can be seen on the Malaysian Nissan website referenced. It was introduced in 1981, and exported as the Datsun C20 (later the Nissan C20) in North America and the Datsun Vanette (later Nissan Vanette) elsewhere.
Eventually, it was replaced by a version of the Mazda Bongo (or E-series), sold as the Nissan Vanette under an OEM deal.
The Nissan C22 was modified for the United States market to compete with the similar sized Toyota Van, and to join the growing minivan market in the USA. This van was sold as the "Nissan Van" in the USA from 1987 to 1990. Nissan had to engineer its larger 2.4 liter engine into the C22 in order to handle American requirements such as air conditioning. The C22 was not originally designed for such a large engine, and the resulting tight quarters would later contribute to overheating and engine fire issues.[citation needed]
In 1994, after four safety recalls did not end the engine fire problems, and with a class action lawsuit pending,[citation needed] Nissan took the unprecedented step of recalling every Nissan Van sold in the USA.[citation needed] Van owners were offered blue book value or more for their van,[citation needed] and most accepted, but a few opted to keep their vans.[citation needed] The class-action settlement offered discounts on the purchase of a new Nissan vehicle. Never before or since has an entire vehicle range been bought back by its maker.[citation needed] The vehicles which were recalled were crushed en masse.[citation needed]
The Nissan Vanette was available in the Philippines until the end of 1999 as the Nissan Vanette Grand coach. In its final version it remains essentially the same Vanette as in previous years except for a different wheel design, upgraded seat materials and a faux wood trim dashboard. The sole engine available is the z20 2.0 liter gasoline engine. Unlike in other Asian countries, no diesel variant was offered or available. An oversight on Nissan's part that could have made the difference in the van's popularity.
The Transformers characters Ironhide and Ratchet have the ability to diguise themselves as Nissan Vanettes. Ironhide is a red vanette, while Ratchet is a white ambulance version.

From Wikipedia, the free encyclopedia
More About Nissan Vanette Truck
Used Cars For Sale | Car Specifications | Automotive Troubleshooting | New & Used Car Reviews | Privacy Policy
History Nissan Vanette Truck - Pics Photos Wallpapers Images