id:a1215502304b1871457
2002 Volkswagen Jetta
Photo #1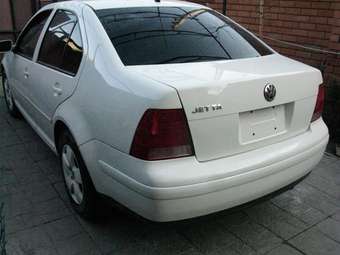 Photo Information (Width: 340px, Height: 255px, Size: 10Kb)
More photos of
Volkswagen Jetta
Volkswagen Jetta Problems
Central locking
2012, The key fob of my Volkswagen jetta 2012
is not working, I have replaced battery, When
I...
Central locking
2012, The key fob of my Volkswagen jetta 2012
is not working, I have replaced battery, When
I...
Jetta 3
1994, Noisy brakes:- My brakes started being
squicky after replacing pads. The other issue
is ...
The Jetta is offered as a 4 door sedan with the following engine choices; a 2.0-liter/90-hp 4 cylinder, a 2.0-liter/115-hp 4 cylinder, 2.8-liter/172-hp V-6. Choose between automatic and manual transmission. ABS is standard.
2002 Volkswagen Jetta specs
| | |
| --- | --- |
| | The Volkswagen Jetta is an automobile produced by German automaker Volkswagen since 1979. Depending upon the model year, country of origin, and country of sale, it is sometimes known as the Atlantic, Bora, City Jetta, Fox, GLI, Sagitar, or Vento. It is essentially the saloon / sedan version of the compact car / small family car Volkswagen Golf, and spans five generations. The Jetta name was derived from the Jet stream, following Volkswagen's long tradition of naming cars for various winds. |
Used Volkswagen Jetta
The Jetta body style was developed due in part to the Volkswagen marketing group's observation that the North American market leaned more towards sedans as opposed to the Golf's hatchback configuration. The new saloon variant was marketed as a more upscale car than its tailgated brethren, with nicer interior trim and a higher price. This proved to be a wise move on Volkswagen's part, as the Jetta became the best-selling European car in the United States, Canada, and Mexico. Over the years, the car has been offered in two and four-door sedan and five-door station wagon variants. As of 2005, over 6.6 million cars have been sold worldwide, with over 2.2 million alone sold in the United States. Since the original version in 1980, the car has grown in size and power with each successive generation.

The Jetta was introduced to the world at the 1979 Frankfurt Auto Show. Production of the first generation began in September 1979 at the Wolfsburg plant. In Mexico, the Mark 1 was known as the "Volkswagen Atlantic". The car was available as a two-door coupe and four-door sedan body styles, both of which shared a three box shape. Like the Golf, its angular styling was penned at ItalDesign, by Giorgetto Giugiaro. Styling differences could be found depending on the market. In most of the world, the car was available with composite headlights, while in the USA, it was only available with rectangular sealed beam lamps due to Federal Motor Vehicle Safety Standard 108. The suspension setup was identical to the Golf and consisted of a MacPherson strut setup in front and a Twist-beam rear suspension in the rear. It shared its 2.4 meter (94.5 in) wheelbase with its hatchback counterpart although overall length was up by 380 millimeters (15 in). The capacity of the luggage compartment was 377 liters (13.3 ft3), making the Jetta reasonably practical. To distinguish the car from the Golf, interiors were made more upscale in all markets. This included velour seating and color coordinated sill to sill carpeting.



» Read More About Volkswagen Jetta