id:a1246270217b2799102
2003 Toyota Verossa
Photo #1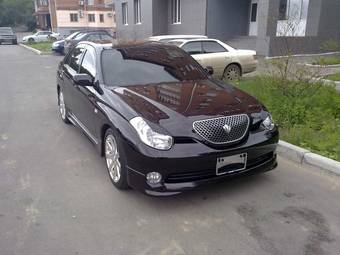 Photo Information (Width: 340px, Height: 255px, Size: 14Kb)
| | |
| --- | --- |
| Engine size - Displacement - Engine capacity: | 2500 cm3 |
| Transmission Gearbox - Number of speeds: | Automatic |
| Fuel Type: | Gasoline |
| Drive wheels - Traction - Drivetrain: | FR or RR |
| Price (out of date): | $17674 |
2003 Toyota Verossa specs, Engine size 2.5, Fuel type Gasoline, Drive wheels FR or RR, Transmission Gearbox Automatic
The Toyota Verossa was a sedan-style automobile produced by the Toyota Motor Company of Japan. It was primarily purchased within Japan, as it was never officially exported for sale in other countries.

After production of the Chaser and Cresta had ended in 2000, Toyota replaced the two sedans with the controversially styled Verossa in 2001. The Verossa shared its model code with its predecessors and also featured the front-engine rear-drive layout.
Used Toyota Verossa
The Verossa was powered by 24 valve DOHC inline-six cylinder engines giving 160hp (120kW) to 280hp (210kW) (2.0 litre, Type 1G-FE; 2.5 litre, Type 1JZ-FSE and 1JZ-GTE). The 2.0 litre model was also available in 4WD form.
Production of the Verossa ceased in 2003 due to poor sales.
Toyota Verossa, Japanese sales brochure #VQ0018-0107 (2001)


» Read More About Toyota Verossa