id:1913201
Toyota Tercel Specs The Tercel is offered as a two-door coupe with a 1.5-liter/93-horsepower and choice of manual or automatic transmissions. ABS is optional.
1998 Toyota Tercel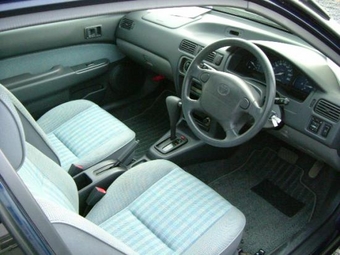 Photo Information (Width: 340px, Height: 255px, Size: 70Kb)
More photos of
Toyota Tercel
Tercel Troubleshooting
Water leak
1991, steam coming from behind engine on
drivers side under hood after i just replaced
water p...
Fuses
1981, Witch fuse do I remove to make odmiter to
start working again or what can I do to get it...
Black Smoke
1999, My car is giving black smoke if we press
acccelerator fast once till end (Like racing). ...
| | |
| --- | --- |
| Engine size - Displacement - Engine capacity: | 1300 cm3 |
| Transmission Gearbox - Number of speeds: | Automatic |
| Fuel Type: | Gasoline |
| Drive wheels - Traction - Drivetrain: | FF |
| Price (out of date): | $6200 |
1998 Toyota Tercel specs, Engine size 1.3l., Fuel type Gasoline, Drive wheels FF, Transmission Gearbox Automatic
| | |
| --- | --- |
| | The Tercel is a subcompact manufactured from 1978 to 1999 across five generations, in five body configurations — sized between the Corolla and the Starlet. Manufactured at the Takaoka Plant in Toyota City, Japan, and sharing its platform with the Cynos (aka Paseo) and the Starlet, the Tercel was marketed variously as the Corolla II — and was replaced by the Echo in 2000. |
Used Toyota Tercel
The name "Tercel" derives from the Latin word for "one third" as the Tercel was slightly smaller than the Corolla — much the way "tiercel" refers to a male falcon, which is one-third smaller than its female counterpart.

The Tercel was introduced in Japan in 1978, and in the United States in 1980; it was the first front-wheel drive vehicle ever produced by the automaker. Toyota named it the Corolla Tercel, hoping that the Corolla image — long known for quality and durability — would bring buyers to the new model. The Tercel's front-wheel drive design ensured that the vehicle delivered maximum interior space in a small package. It was originally sold as either a two-door coupe or a three-door hatchback, with each model powered by a 1.5L SOHC four-cylinder engine producing 60hp (45kW). Transmission choices were either a four- or five-speed manual or a three-speed automatic.

The new front-wheel drive design in the Tercel, unlike their previous front-wheel drive designs, did not have the engine transversely mounted. Rather, the engine was mounted longitudinally, such that the transmission was mounted under the floorpan, as was standard in a rear-wheel drive car. Unlike a rear-wheel drive car, the transmission had a ring and pinion gear on the front part of the transmission, underneath the engine. Halfshafts then extended from the transmission to the front wheels.



» Read More About Toyota Tercel