id:a1340641847b7884318
2011 Toyota RAV4
Photo #1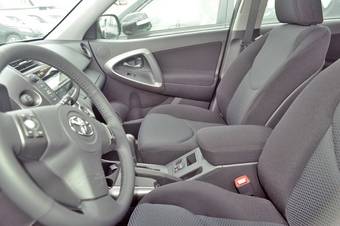 Photo Information (Width: 340px, Height: 226px, Size: 12Kb)
| | |
| --- | --- |
| Engine size - Displacement - Engine capacity: | 2400 cm3 |
| Transmission Gearbox - Number of speeds: | Automatic |
| Fuel Type: | Gasoline |
| Drive wheels - Traction - Drivetrain: | 4WD |
| Price (out of date): | $40596 |
The Rav4 is available in a 2 door soft top or a 5 door hard top with front or 4 wheel drive. Under the hood is a 2.0-liter DOHC 16-valve 4-in-line with 127 hp with choice of a 5 speed manual or 4 speed automatic transmission.
2011 Toyota RAV4 specs, Engine size 2.4, Fuel type Gasoline, Drive wheels 4WD, Transmission Gearbox Automatic
An all-electric version of the RAV4, the RAV4 EV, is detailed on its own page.

The Toyota RAV4 (pronounced "rav-four") is a compact crossover SUV built and marketed by the Toyota Motor Corporation. The car was introduced in Japan and Europe in 1994 and sales began in North America in 1996 to cater to consumers wanting a vehicle that had most of the benefits of SUVs, such as increased cargo room, higher visibility, and the option of full-time four-wheel drive, along with the maneuverability and fuel economy of a smaller car. The early success of the RAV4 paved the way for other compact SUVs such as the Honda CR-V, Mitsubishi Outlander, the Ford Escape/ Mazda Tribute, and the Subaru Forester. Its name stands for "Recreational Active Vehicle with 4-wheel drive," although not all RAV4s have four wheel drive, which is optional in some countries. In most countries, the RAV4 is the only compact SUV from Toyota. In other markets, it is the crossover counterpart of the FJ Cruiser.
Used Toyota RAV4
The RAV4 was originally based on the Corolla platform, and was offered in both two and four-door versions. In the US, a 2.0L straight-4 producing 120hp (89kW) was offered. Both Front wheel drive and Four-wheel drive were available, and the RAV4 could be had with either a five-speed manual or four-speed automatic transmission. In 1998, the RAV4 was slightly restyled on the front and rear fascias, and a soft-top two-door was made available exclusively in the US market. Horsepower was increased slightly to 127. In 1999, the two-door hardtop was dropped from the American lineup, leaving the 4-door and soft-top models.

One interesting version, the RAV4 EV, was an all-electric 'zero-emission' model offered for sale in small quantities in California. These models came with a 60,000-mile (97,000km) battery warranty, and the vehicles still command high prices on the used-car market. One sold in 2006 on eBay for over US$50,000.

A significant criticism of the gasoline-powered first generation RAV4s, often called '4.1s', was that they were underpowered, and had relatively poor fuel economy via their 3SFE engines that were designed for earlier Camrys and 1987-1989 Toyota Celica GT, 1990-1993 S-R and Z-R, as well as 1994-1999 SS-I. Later generations of RAV4s, the so-called '4.2s' and '4.3s', have addressed this concern.



» Read More About Toyota RAV4