id:1137109
1989 Toyota Mark II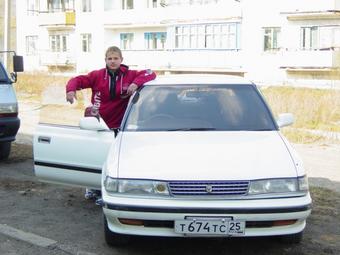 Photo Information (Width: 340px, Height: 255px, Size: 15Kb)
More photos of
Toyota Mark II
Toyota Mark II Problems
Squealing noise by rear brake
2001, My car's rear right side brakes
won't stop squealing after my mechanic
changed...
Hard start
2004, I couldn't start my Toyota mark II
which I imported from Japan. I could do
everythi...
Not revving
2002, i started my car toyota mark 11 grant
this morning , it started the idling was very
low ...
| | |
| --- | --- |
| Engine size - Displacement - Engine capacity: | 2000 cm3 |
| Transmission Gearbox - Number of speeds: | Automatic |
| Fuel Type: | Gasoline |
| Drive wheels - Traction - Drivetrain: | FR or RR |
| Price (out of date): | $2700 |
1989 Toyota Mark II specs, Engine size 2.0, Fuel type Gasoline, Drive wheels FR or RR, Transmission Gearbox Automatic
The Toyota Mark II is a model name used by Toyota for several decades.

The first Mark II, called the Toyota Corona Mark II was an upscale version of the Toyota Corona sedan sold by Toyota. By the 1970s, the Mark II used a separate platform from the plain Corona and was much larger. Once the platform was separated, the car became known simply as the Toyota Mark II.
Used Toyota Mark II
Subsequent Mark II models spawned several variations, each of them sedans but with different styling. The sportier Toyota Chaser and Toyota Cresta appeared in the late-1970s.

The Mark II found much success throughout its life as the definitive private-use executive car in Japan (the larger Toyota Crown was considered more of a chauffeur-driven car for upper management, and the Toyota Century is the flagship sedan on a presidential level). The Mark II and its variants often sold in numbers comparable to the smaller Toyota Corona and Toyota Corolla. Popularity peaked in the 1980s and the Mark II was available with engines ranging from a 1.8 liter 4-cylinder to a turbocharged 2.5-liter than pushed the 280 horsepower (209 kW) self-imposed limit of the Japanese auto industry. Like the first-generation Corolla in 1966, the Mark II would come to symbolize Toyota's winning formula of capturing its customer's upward aspirations through excellent perceived quality.

The Corona Mark II, was designed as a model line that was between the top model Crown and the Corona. Basically it's a slightly higher spec than a Corona, with many of the same features of the larger Crown. The four door sedan was designated as the T60 and the 2 door coupé the T70. In 1970 there were minor cosmetic changes in the front grille. The 1600cc 7R series engine was replaced by the 1700cc 6R series engine. A year later the 1500cc 2R models were replace by the 1600cc 12R engines.



» Read More About Toyota Mark II