id:a1184121373b1305223
1996 Toyota Corona EXIV
Photo #4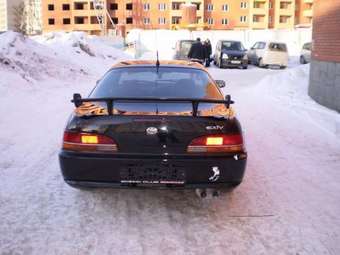 Photo Information (Width: 340px, Height: 255px, Size: 12Kb)
More photos of
Toyota Corona EXIV
Corona EXIV Troubleshooting
Yedek parca
1993, ontakım yedek parca kapı kılıtlerı
nerden bulabılırız on takımda sıkıntı va...
Hazard light switsh bulb
1996, Is there any place to find panel bulbs
for the exiv? Also I need the hazard light bulb
w...
Car problem
1998, its manual gearbox four wheel is no
longer efficient to the extend of failing to
engage ...
1996 Toyota Corona EXIV specs: mpg, towing capacity, size, photos
| | |
| --- | --- |
| | The Toyota Corona (Japanese: トヨタ・コロナ) is an automobile manufactured by the Japanese automaker Toyota between 1957 and 2002. The Corona was Toyota's second oldest nameplate, behind the Crown. During Toyotas early days, the Crown, Corona and Land Cruiser were the only vehicles made, with the Corona in multiple body configurations, including trucks and delivery vans. Traditionally, the competitor from Nissan was the Nissan Bluebird. The word Corona is Latin for "crown". |
Used Toyota Corona EXIV
The Corona became massively successful in export markets: confusion easily arises because Toyota (like Volkswagen with their Passat and Mitsubishi with their Colt) applied model names inconsistently in different places. Following the 1969 parallel introduction of the Corona Mark II (which in certain markets mutated into the Cressida in 1973) there were disparate models sharing the Corona name. As time went by, models branded in much of Asia as Coronas turned up in European markets as Carinas, while ten years later in North America the Corona was successfully replaced by the larger Camry. In addition, because of the similarities in names, it is a very common mistake to confuse the Corona with the much smaller Toyota Corolla.

The first generation Corona was designed with parts from the previous generation Crown and Master, due to a major restyle and enlargement of that model. Many of the body panels were cut down from the Master that ceased production. Also available was the ST16/ PT16 van versions. The 997cc (60.8cuin) OHV P series engine was used, but the regulations regarding taxi's at the time were 910cc (56cuin). Dealers restricted the power for taxi vechicles. Due to the upgrade in dimensions of the Crown, Toyota needed to continue manufacturing a vehicle with similar size dimensions to the first Crown, primarily to be used for taxi usage. This vehicle saw the introduction of a monocoque chassis structure, and a independent front suspension using double wishbones. Due to the monocoque chassis, Toyota was able to produce a vehicle under 1,000kg (2,200lb). This series was only available as a four door sedan. Due to improvements indroduced in 1959, this car was capable of traveling at 105km/ h (65mph).



» Read More About Toyota Corona EXIV