id:a1340640034b7884149
2012 Toyota Corolla
Photo #1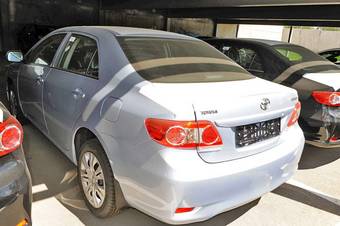 Photo Information (Width: 340px, Height: 226px, Size: 15Kb)
More photos of
Toyota Corolla
Toyota Corolla Problems
Hub caps
1995, I am unable to find and then purchase
13"hubcaps for my 1995 Toyota Corolla. I
am ...
High fuel consupition
2000, my car is taking more fuel .im using
8litresfor almost 38km.i did minor serves for
sever...
Wont start
2002, I have recently replaced the battery. I
have put in a new starter BUT the car still
will...
| | |
| --- | --- |
| Engine size - Displacement - Engine capacity: | 1600 cm3 |
| Transmission Gearbox - Number of speeds: | Automatic |
| Fuel Type: | Gasoline |
| Drive wheels - Traction - Drivetrain: | FF |
| Price (out of date): | $21847 |
The Corolla is offered as a 4 door sedan with a 1.8-liter/120-horsepower inline-four with a manual transmission. 3 and 4-speed automatics are available as is ABS.
2012 Toyota Corolla specs, Engine size 1600cm3, Fuel type Gasoline, Drive wheels FF, Transmission Gearbox Automatic
| | |
| --- | --- |
| | The Corolla is a line of subcompact/ compact cars produced by the Japanese automaker Toyota, which has become very popular throughout the world since the nameplate was first introduced in 1966. In 1997, the Corolla became the best selling nameplate in the world, with over 35 million sold as of 2007. Over the past 40 years, one Corolla car has been sold on average every 40 seconds. The modern Corolla shares only the name with the first generation car, as the series has undergone several major redesigns. The current North American Corolla is priced and sized in between the Yaris and the Camry. |
Used Toyota Corolla
The name Corolla is part of Toyota's naming tradition of using the name Crown for their primary models, e.g. the Corona, which is Latin for crown, or the Corolla, which is Latin for small crown and Camry which is an Anglicized pronunciation of the Japanese term "kanmuri" meaning "crown".
Corollas are currently manufactured in Japan, the United States (Fremont, California), the United Kingdom (Derbyshire), Canada (Cambridge, Ontario), Malaysia, China (Tianjin), Taiwan, South Africa, Brazil (Indaiatuba, São Paulo), Turkey, Philippines, Thailand, Venezuela, Pakistan, India and Indonesia.
The Corolla's chassis designation code is "E", as described in Toyota's chassis and engine codes.
Using the Corolla chassis
A slightly upmarket version called the Sprinter was sold in the Japanese home market. It was replaced in 2001 by the Allex, which was then replaced by the Blade in 2006.

There have also been several models over the years, including the Corolla Ceres (and similar Sprinter Marino) hardtop, Corolla Levin and Sprinter Trueno sports coupés and hatchbacks, and the Corolla FX hatchback, which became the Corolla RunX. The RunX was replaced by the Auris in 2006. A compact MPV named the Corolla Verso has also been released in European markets. Its Japanese counterpart is the Corolla Spacio, which has been discontinued as of the 10th generation. The US-market Scion xB is also sold in Japan as the Corolla Rumion.



» Read More About Toyota Corolla