id:a1249818003b2942933
2004 Toyota Brevis
Photo #1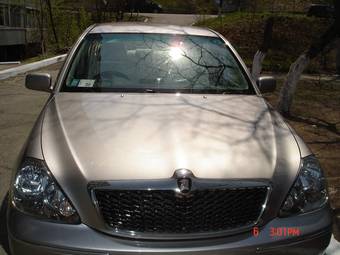 Photo Information (Width: 340px, Height: 255px, Size: 14Kb)
More photos of
Toyota Brevis
Brevis Troubleshooting
Airco
2006, De airconditioning ia not working because
they rip the 6 cd changer apart to instal a pi...
Starting problem
2002, Does not start. Only cranks but battery
is new. When i try to start the car it
doesn...
Used a modified key
2002, I recently had a spare key made then I
tried it in my key slot, now my bee is just
crank...
| | |
| --- | --- |
| Engine size - Displacement - Engine capacity: | 2500 cm3 |
| Transmission Gearbox - Number of speeds: | Automatic |
| Fuel Type: | Gasoline |
| Price (out of date): | $15848 |
2004 Toyota Brevis specs, Engine size 2500cm3, Fuel type Gasoline, Transmission Gearbox Automatic
| | |
| --- | --- |
| | The Toyota Brevis is a mid-sized luxury sedan introduced in May 2001 and sold only in Japan. The Brevis has some styling cues from the Lexus LS 430. The Brevis had been discontinued in 2007. Sales started in June, 2001. The cars finishing gives composure and a feeling of luxury although performance wise it is similar to the Progres and both having similar medium size bodies. |
Used Toyota Brevis
Toyota Brevis is the twins sister of Progres, which is the forerunner to Altezza, hence making the Brevis an enlarged Lexus IS. Unlike Progres, the new Brevis aims at younger customers and compete directly with imports like BMW 3-series and Mercedes C-class. Basically, the chassis and powertrains are identical to Progres. What makes it more appealing is a (relatively) handsome exterior styling and a beautifully trimmed interior. The headlamps consists of three round type reams. The feeling of luxury and elegant space is reflected by using the glass green lighting for the speedometer and the clock. The stylish center console houses a LCD monitor and an alloy-effect sound system which consists of a on-dash CD changer, DVD and MD playback, with 7 speakers on the top model.

Brevis rides on the same rear-drive platform as Lexus IS, with wheelbase extended to 2,780mm (109.4in) to better all its European rivals. In terms of size and weight, it stand between a BMW 3-series and 5-series, so cabin space is plenty. However, dynamically speaking it can hardly match the European rivals (that role is left for Lexus to fulfill), although rides on double-wishbones suspensions. Suspension is set softer than the Lexus, steering is less direct, and its 1,550kg (3,417lb) kerb weight also hurt handling agility.



» Read More About Toyota Brevis