id:a1217829472b1933148
2004 Toyota Alphard
Photo #1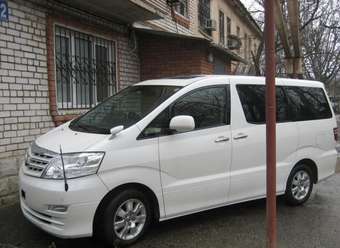 Photo Information (Width: 340px, Height: 248px, Size: 14Kb)
More photos of
Toyota Alphard
Toyota Alphard Problems
Alphard
2021, Why when engine idle for 30min engine
tarpet sound too loud… how to solve it??
Af...
Car dont break
2003, the car does not lock and the parking
lights stay on on the dashboard In driving it
is ...
Need help
2004, I parked the vehicle and went into a
spare shop. upon coming back check whether the
air...
2004 Toyota Alphard specs
| | |
| --- | --- |
| | The Toyota Alphard is a luxury MPV produced by the Japanese automaker Toyota since 2002. It is available as a seven or eight-seater with 2.4 and 3.0-litre gasoline engines in 3 different model lines - Alphard G, Alphard V and Alphard Hybrid. The Alphard is primarily made for the Japanese market, but is also sold in Indonesia, Hong Kong, Bangladesh, Singapore Thailand, and Malaysia. The vehicle was named after the Alphard, the brightest star in the constellation Hydra. |
Used Toyota Alphard
Toyota states its "E-Four electric 4WD system that regulates a rear-mounted, rear-wheel-propelling electric motor and coordinates electric power distribution to all four wheels. An ECB (Electrically Controlled Brake system) provides efficient wheel-by-wheel brake control."

The full-size Alphard Hybrid MPV qualifies as an Ultra-Low Emissions Vehicle (ULEV), achieving levels 75% lower emissions than the Japanese government's 2000 benchmark. The 2.4-litre gasoline engine has been developed specifically for use in Toyota's hybrid systems and features a high-expansion ratio cycle that raises efficiency and reduces friction.

In 2006, a Royal Lounge Alphard was introduced. It is a luxurious, four-seat version of the Alphard.

The Alphard Hybrid uses "by-wire" technology that monitors brake pedal pressure and vehicle speed in order to calculate the optimum hydraulic pressure. By-wire works with the E-Four to maximize the collection of kinetic energy from braking for conversion into electric power.



» Read More About Toyota Alphard