id:a1252917021b3026851
2005 Subaru R2
Photo #1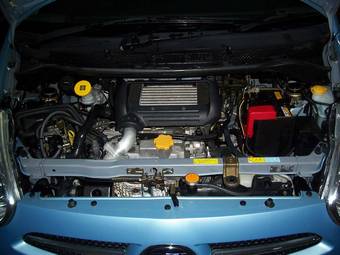 Photo Information (Width: 340px, Height: 255px, Size: 16Kb)
More photos of
Subaru R2
Subaru R2 Problems
Gear problem
2007, gear problem 3rd gear stop getting load
on driving there is nobody solving my problem...
ABS
2006, ABs notification light on after the car
run for 10 minutes when the light is on, the
en...
Control box
2004, replacement of control box & please
let me know the adress where to buy; getting wh...
| | |
| --- | --- |
| Engine size - Displacement - Engine capacity: | 700 cm3 |
| Transmission Gearbox - Number of speeds: | CVT |
| Fuel Type: | Gasoline |
| Drive wheels - Traction - Drivetrain: | 4WD |
| Price (out of date): | $8789 |
2005 Subaru R2 specs, Engine size 0.7l., Fuel type Gasoline, Drive wheels 4WD, Transmission Gearbox CVT
Subaru (スバル, Subaru?) is the automobile manufacturing division of Japanese transportation conglomerate Fuji Heavy Industries Co., Ltd. (FHI).

Subaru is known for their use of boxer engines in most of their vehicles. The company decided to utilize all wheel drive in most international markets as standard equipment in 1996. They also offer many turbocharged versions of their passenger cars, such as the Impreza WRX which is well-known in motorsports, such as rally racing. Other turbocharged models from Subaru include the Forester XT, Impreza STI and Legacy GT Spec.B.
Used Subaru R2
Fuji Heavy Industries, the parent company of Subaru, is currently in a partnership with Toyota Motor Corporation, which owns 16.5% of FHI. The company is named after the star cluster Pleiades, which in Greek mythology is known as the Seven Sisters, and in Japanese the name is "Subaru", which roughly translated into English means, "to govern", "unite," or "gather together". The company logo is influenced by the star cluster. The large star in the logo represents Fuji Heavy Industries, and the five smaller stars represent the current five companies that are united under the FHI group.

FHI started out as The Aircraft Research Laboratory in 1917 headed by Chikuhei Nakajima. In 1932, the company was reorganized as Nakajima Aircraft Company, Ltd and soon became the primary manufacturer of aircraft for Japan during World War II. At the end of the Second World War Nakajima Aircraft was again reorganized, this time as Fuji Sangyo Co, Ltd. In 1946, the company created the Fuji Rabbit motor scooter with spare aircraft parts from the war. In 1950, Fuji Sangyo was divided into 12 smaller corporations according to the Japanese Government's 1950 Corporate Credit Rearrangement Act, anti-zaibatsu legislation, but between 1953-1955, four of these corporations and a newly formed corporation Fuji Kogyo, a scooter manufacturer; coachbuilders Fuji Jidosha; engine manufacturers Omiya Fuji Kogyo; chassis builders Utsunomiya Sharyo and the Tokyo Fuji Dangyo trading company decided to merge together to form the Fuji Heavy Industries known today.



» Read More About Subaru