id:a1236277850b2462544
2002 Subaru Legacy B4
Photo #1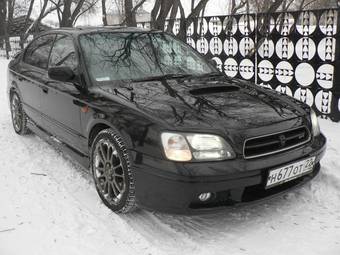 Photo Information (Width: 340px, Height: 255px, Size: 19Kb)
More photos of
Subaru Legacy B4
Subaru Legacy B4 Problems
Subaru
2000, indicate green light power high
temperature and boiling ineed new engine what
can I do t...
TWIN BOXER TURBO
2001, Power and dragging when starting. it was
diconnected one turbo after a while a power but...
Oil leak
2000, the car is having an oil leak which
sometimes makes it to produce a burning smell.
Some ...
2002 Subaru Legacy B4 specs
For the off-road, outdoor activity version of the Legacy, see Subaru Outback

The Legacy is a mid-size car introduced by the Japanese manufacturer Subaru in February 1989 as a larger companion to the company's Leone/ Loyale. Worldwide distribution started in 1990. In Australia, the Legacy bears the name Liberty out of respect for Legacy Australia, an organization which aids veterans and their families during and after wars. According to a press release from Subaru listed by Autoblog, as of November 2008, 3.6 million Legacies have been built since its 1989 introduction.
Used Subaru Legacy B4
The standard equipped symmetrical all-wheel drive system is currently unique to the Legacy in this class size of vehicle.

In the USA market, the Legacy competes with the Toyota Camry, the Honda Accord, the Mitsubishi Galant, and the Nissan Altima. German automaker Volkswagen offers AWD as an option on the Volkswagen Group A5 PQ46 platform, however it is an extra cost option on upper trim level cars. The Ford CD3 platform can also be equipped with AWD for the USA market, but it too is an extra cost option only on the uplevel V6 models.

Main article: First Generation Subaru Legacy

The worldwide introduction of the Legacy was a notable departure from Subaru products in the past. Subaru had earned a reputation of building vehicles that were regarded as "quirky" and other Asian manufacturers were bringing more upscale and conventional appearing models to the market. The Legacy appeared at the same time as the USA introduction of Lexus and Infiniti and a couple years after Acura. However, Subaru didn't have a large displacement V6 or V8. The Legacy was more aerodynamic than previously built products, with soft edges and a more coherent appearance. The sedan has a break in the beltline where it drops down from the windshield to the front door glass, and then juts up from the rear door glass to the rear window, and the beltline is interrupted as it transitions down to the rear window on the wagon. The beltline treatment was used again on the SVX when it was introduced in 1992. The Legacy was interpreted by some as Subaru's attempt at participating in the growing, upscale market. The Legacy broke with many Subaru traditions, such as no longer locating the spare tire in the engine compartment, behind the engine and above the transmission. The Legacy was an all-new model, and slotted above the Leone in Subaru's model range. The Legacy also introduced an entirely new engine series, called the Subaru EJ engine, which was quieter than the previous Subaru EA engine.



» Read More About Subaru Legacy B4