id:a1212687911b1776456
2001 Subaru Impreza WRX
Photo #1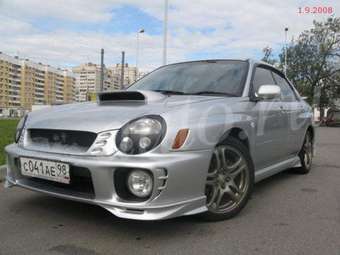 Photo Information (Width: 340px, Height: 255px, Size: 11Kb)
More photos of
Subaru Impreza WRX
Subaru Impreza WRX Problems
Engine
1996, when drive sometime engine just cough up.
feel like the turbo is not ignite...
Defects
1999, it has expired nsw rego and as im south
aussie i have to have a visual inspection but i
...
The WRX Sedan and Sport Wagon are new high performance models boasting a 227 horsepower turbocharged engine. Unique WRX features include a Momo brand leather-wrapped steering wheel, larger brakes with twin piston calipers, and an aluminum-alloy hood. Full time all wheel drive is standard, and all models now feature four-wheel anti-lock brakes and daytime running lights.
2001 Subaru Impreza WRX specs
For the high-performance version of the Impreza WRX, see Subaru Impreza WRX STI.

The Subaru Impreza WRX, is a turbocharged version of the Subaru Impreza, an all-wheel drive automobile. It is available as a sedan or wagon. The WRX has become a popular choice for automobile enthusiasts wherever it is sold for its performance and handling.
Used Subaru Impreza WRX
Originally introduced in 1992 in Japan, then shortly afterwards in Australia and Europe, the WRX had a turbocharged flat-4 2.0L (then later a 2.5L), Subaru Boxer engine. Compared to the base Impreza, the WRX has wider low-profile tires, larger brakes, and firmer, higher quality suspension components.
The Impreza WRX was first sold in North America in the 2002 model year.
There were 6 noted versions of the WRX. The STI versions were marketed with consecutive numbers. Another way to tell the version of a WRX was to look at the chassis code. All WRX sold between 1992 and 2000 have the beginning chassis code of GC8 then followed by a letter from A to G.
Japan-spec
GC8A (11/ 1992-9/ 1993)
The WRX debuted in November 1992 with 240 PS (177 kW) at 6000 rpm with 31 kg·m (304 N·m) at 5000 rpm. Both front and rear brake rotors were ventilated disks. The vehicle had a curb weight of 1220kg (2690lb). The center differential was a viscous coupling type. The rear LSD was a viscous type. The WRX Type RA (marketing has made usage of the RA acronym in various ways; Record Attempt is the current usage. "R = Racing, A = Group A, the FIA racing class the WRC Impreza competes in" has also been confirmed by Subaru of Japan; the correspondence can be seen on the discussion board for this article) is a stripped down version of the WRX for people to purchase for motorsports. It does not have many "creature comforts" such as air-conditioning or a radio. The car also lacks anti-lock brakes. The WRX Type RA has the same mechanical specifications as the WRX except it had a weight reduction to 1170kg (2579lb). The WRX Type RA steering wheel is a 3 spoke leather-wrapped wheel from Nardi.



» Read More About Subaru Impreza WRX