id:a1339230622b7750252
2010 Skoda Octavia
Photo #1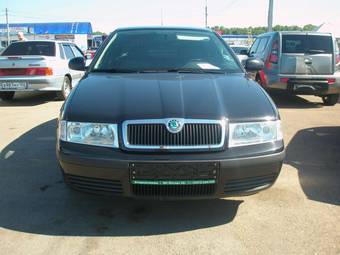 Photo Information (Width: 340px, Height: 255px, Size: 14Kb)
| | |
| --- | --- |
| Engine size - Displacement - Engine capacity: | 1600 cm3 |
| Price (out of date): | $15512 |
2010 Skoda Octavia specs, Engine size 1.6l.
For the car produced between 1959-1971 also known as Škoda Octavia, see Škoda Octavia (1959-1971).

The Škoda Octavia is a small family car produced by Czech automaker Škoda Auto since 1996, its name revived from a model originally produced between 1959 and 1971. The current Octavia is available in five-door liftback and estate body styles. A common misconception is that the Octavia is a saloon due to its long boot. However in some markets (such as China) the Octavia is configured as a saloon.
Used Skoda Octavia
The first generation Octavia was released in 1996 and was built on the Volkswagen Group A4 (PQ34) platform.

United Kingdom sales began in 1998 and the car was an instant success with buyers who appreciated its solidity, refinement and value for money, though it could not quite match the success of established favourites such as the Ford Mondeo, Opel Vectra and Peugeot 406.[citation needed] The car became synonymous with the U.K taxi trade, due the large number of private hire drivers who used the vehicle due to its low price, space and reliability.

The first generation Octavia had a facelift in 2000 and is still manufactured and marketed in some markets, even though the second generation was introduced in 2004. In Germany, and other parts of West Europe, as well as Asia, the older model is marketed as the Octavia Tour, while the newer model is marketed as the Octavia. In some markets, the first-generation Octavia is still known as Octavia, and the newer model is referred to as the new Octavia, Octavia5 (Greece) or Laura (India). The major improvements in the new model are the independent rear suspension and improved interior (in space, design and quality of materials).



» Read More About Skoda Octavia