id:a1212626190b1765194
2007 Skoda Fabia
Photo #1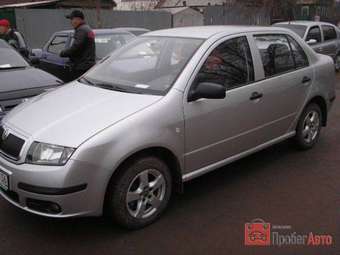 Photo Information (Width: 340px, Height: 255px, Size: 10Kb)
More photos of
Skoda Fabia
Fabia Troubleshooting
Switching off
2004, My skoda car switches of when it is in
moving or while i am warming it in the morning.
T...
2007 Skoda Fabia specs: mpg, towing capacity, size, photos
"Fabia" redirects here. See also Fabius.

The Škoda Fabia is a supermini produced by Czech manufacturer Škoda Auto since 1999. It was the successor to the Škoda Felicia, which was discontinued in 2001. The Fabia was available in hatchback, estate (named Fabia Combi) and saloon (named Fabia Sedan) body styles while from 2007 merging in the second generation— starting with hatchback and awaiting the new estate version. The saloon variant is not planned for the second generation[citation needed].
Used Skoda Fabia
The first generation Fabia (given the internal type code 6Y) was officially presented at the Frankfurt Motor Show in September 1999 and production of this model started in October the same year. The estate version Fabia Combi was introduced in September 2000 at the Paris Motor Show. It was the first model to use the Volkswagen Group's A04 platform, which it shares with the Volkswagen Polo Mk IV and SEAT Ibiza.

The range starts with the 1.2 6v Classic (which is cheaper than Volkswagen's smaller 3-door 1.0 Lupo) to the 1.9 PD TDi vRS.

Part of the Fabia's success is the fact that all of its mechanical parts are developed by or in conjunction with Volkswagen, but are offered in a package that is priced to undercut other models in the Volkswagen Group. The only trace of non-VW Škoda left in the Fabia is the 1.4 8v "MPI" Engine, which was a modification to Škoda's own 1.3 engine, and was used in pre-Volkswagen Škodas such as the Estelle and Favorit.



» Read More About Skoda Fabia