id:875738
1999 Rover 75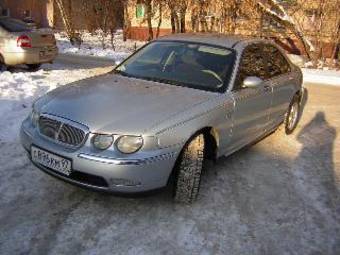 Photo Information (Width: 340px, Height: 255px, Size: 17Kb)
More photos of
Rover 75
75 Troubleshooting
Smokey egjosht
2004, i have the car only two days. egzosht too
smokey and smoke smelling oil could u advise m...
Oil leek
2004, The oil was leaking from the end cap of
camshaft . the cap is open two times and seal
mo...
Motor dies
1999, gasoline engine 2.5 automatic
transmission, car dies at times going up and
down hills. 1...
| | |
| --- | --- |
| Transmission Gearbox - Number of speeds: | Manual |
| Price (out of date): | $26000 |
1999 Rover 75 specs, Transmission Gearbox Manual
This article is about the motor vehicle produced 1999–2005. For the original Rover 75 of 1949–59, see Rover P4.

The Rover 75 (codenamed R40 during development) is an executive car produced initially by the Rover Group at Cowley, Oxfordshire, UK, and later by MG Rover at their Longbridge site in Birmingham, UK. The Rover 75 was available with either a saloon or estate body and, latterly, with front-wheel drive or, in V8-engined form, with rear-wheel drive.
Used Rover 75
The Rover 75 was unveiled at the 1998 Birmingham Motor Show — at the same time as the new Jaguar S-Type which had similarly 'retro' styling. Deliveries commenced in February 1999 from Rover's Cowley production facility.

Production of the Rover and MG branded models ceased in 2005 when manufacturer MG Rover entered administration. However, 'new' models with delivery mileage are still being registered. The Chinese manufacturer SAIC has started production of their version of the 75, called the Roewe 750, which is a slightly stretched version of the standard R40 design developed from designs purchased from MG Rover Group in 2004. Rival Chinese manufacturer Nanjing Automobile Group (the owner of the MG brand and MGR tooling) has started production of the MG 7. The latter vehicle cannot be branded as a Rover because NAC-MG do not own the rights to the brand, which Ford purchased in 2006. This version is essentially the same as the last models built in Britain by MG Rover Group.

Both the MG 7 and Roewe 750 have started production in China.



» Read More About Rover 75