id:a1240511356b2634356
1994 Renault 19
Photo #4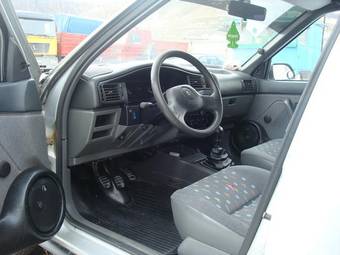 Photo Information (Width: 340px, Height: 255px, Size: 14Kb)
| | |
| --- | --- |
| Engine size - Displacement - Engine capacity: | 1400 cm3 |
| Transmission Gearbox - Number of speeds: | Manual |
| Fuel Type: | Gasoline |
| Drive wheels - Traction - Drivetrain: | FF |
| Price (out of date): | $2689 |
1994 Renault 19 specs, Engine size 1.4, Fuel type Gasoline, Drive wheels FF, Transmission Gearbox Manual
The Renault 19 is a small family car produced by French automaker Renault between 1988 and 2000.

The 19 was the replacement for the 9 and 11, both of which were ageing and outdated by the late 1980s. The 19 was styled by Giorgetto Giugiaro, featuring Renault's new E-type (or "Energy") 1.4-litre engine and F-type 1.7 and 1.8-litre versions. Base models used the OHV C-type "Cléon" 1.2 and 1.4-litre engines.
Intended to be Renault's last numeric-named car, the 19 ushered in a new naming policy, with the saloon versions of the 19 being known as the "19 Chamade" to distinguish them from the hatchbacks. However, the "Chamade" badge was dropped following the 1992 facelift. In 1991 a convertible bodystyle built by Karmann was introduced. Although the R19's exterior design (which was relatively conservative, like that of the Renault 9/ 11) received a muted response, it was praised for its interior comfort and handling.
In the summer of 1992, a revamped model was introduced with a substantially restyled front and rear, while left hand drive market versions received a new dashboard and interior - right hand drive models retained the original design.
The 19 was sold in Europe until 1996, and was produced for South American markets in Argentina until 1999. The 19's platform and running gear would continue to be used in its replacement, the first generation Renault Mégane.
Car Of The Year 1989 (Spain)
Car Of The Year 1989 (Germany)
Imported Car #1 1989 and 1990 (Germany)
Car Of The Year 1993 (Argentina)


» Read More About Renault 19