id:a1252353602b3010004
The Voyager is powered by one of the following engines; a 2.4-liter 4-in-line with 150 hp; a 3.0-liter V-6 with 150 hp; a 3.3-liter V-6 with 158 hp; or a 3.8-liter V-6 with 180 hp. All come with your choice of a 3 or 4-speed automatic and standard ABS. It's available in 2 or 4 wheel drive and sits up to 7 passengers.
2000 Plymouth Voyager
Photo #1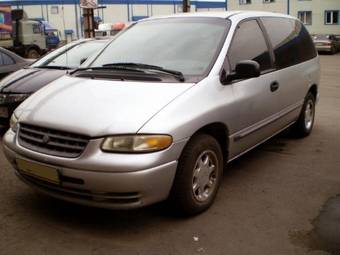 Photo Information (Width: 340px, Height: 255px, Size: 13Kb)
More photos of
Plymouth Voyager
Voyager Troubleshooting
Stater
2000, driving down highway car just started
reving up had no power shut off and would not
star...
Coolant leaking from rear of engine
1998, My 1998 Plymouth Voyager 3.0L 6 cylinder
engine is leaking coolant in the rear part of t...
Unknown coolant leak
1999, The engine is a 3.8L 6cyl. It has begun
leaking in some inacessable location that I
can&...
| | |
| --- | --- |
| Engine size - Displacement - Engine capacity: | 2400 cm3 |
| Transmission Gearbox - Number of speeds: | Automatic |
| Fuel Type: | Gasoline |
| Drive wheels - Traction - Drivetrain: | FF |
| Price (out of date): | $9491 |
2000 Plymouth Voyager specs, Engine size 2400cm3, Fuel type Gasoline, Drive wheels FF, Transmission Gearbox Automatic
| | |
| --- | --- |
| | The original Plymouth Voyager was a twin of the Dodge B-series van from 1974 to 1983. Beginning in 1984 the Voyager name was applied to a new vehicle based on the Plymouth Reliant car. It was first introdouced as a "magic wagon", meaning that is was very similar to a station wagon, however it had more cargo room and removeable seats.The Voyager minivan, along with the similar Dodge Caravan (later joined by the Chrysler Town and Country) and the French Renault Espace were the first modern minivans; the Chrysler minivans are credited with creating the entire market segment for these vehicles in North America. |
Used Plymouth Voyager
The Grand Voyager minivan was longer than the Voyager in both length and wheelbase, and had more cargo space. In addition, engine choices were different in most years to compensate for the greater weight of the Grand Voyager. Otherwise, the two vehicles were substantially the same.

Together with it's nameplate variants, the Dodge Caravan, Chrysler Voyager, Chrysler Town & Country and Volkswagen Routan, the Chrysler minivans have ranked as the 13th bestselling automotive nameplate worldwide, with over 12 million sold.

The first Plymouth Voyager was manufactured from 1974-1983 as a rebadged Dodge Sportsman with 12-15 passenger capacity. The Voyager was Plymouth's first truck-bodied vehicle in many decades.

This Generation I Voyager minivan used the Chrysler S platform, which was closely related to the K-cars (Plymouth Reliant and Dodge Aries). The Voyager was on Car and Driver magazine's Ten Best list for 1985. A three-speed TorqueFlite automatic transmission and a five-speed manual were available with the four-cylinder engines, including the turbocharged 2.5L engine offered only in 1989 and 1990.



» Read More About Plymouth Voyager