id:a1340526617b7873215
2010 Nissan Teana
Photo #1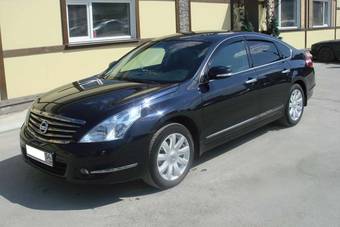 Photo Information (Width: 340px, Height: 227px, Size: 12Kb)
More photos of
Nissan Teana
Teana Troubleshooting
Nissan Teana
2012, Hi my car has a leak probably the
steering rack sometimes it dont leak for a day
or two ...
Engine problems
2003, I see a lot off gray smoke when a start
the engine en when the engine is on temperature
...
Rubbish in the car
2012, Can you please let me know the
following: 1. what is Fog Light? 2. What
spec do you ...
| | |
| --- | --- |
| Engine size - Displacement - Engine capacity: | 2500 cm3 |
| Transmission Gearbox - Number of speeds: | CVT |
| Fuel Type: | Gasoline |
| Drive wheels - Traction - Drivetrain: | FF |
| Price (out of date): | $29213 |
2010 Nissan Teana specs, Engine size 2.5, Fuel type Gasoline, Drive wheels FF, Transmission Gearbox CVT
| | |
| --- | --- |
| | The Nissan Teana (Japanese: 日産・ティアナ) is a front wheel drive full-size automobile produced by Nissan of Japan, introduced in 2003. It is exported as the Nissan Maxima and Nissan Cefiro to certain markets, not to be confused with the Nissan Maxima sold in North America (with which it shares its platform). It shares a platform with the North American Maxima and Nissan Altima, as well as the Japanese market Presage. |
Used Nissan Teana
The Teana was first introduced in late 2003 to the Japan Domestic Market. It was introduced a month later to other Asian markets like Singapore. In 2004, the car arrived on European shores. Powering the Teana was either a 1998cc,2349cc or 3498cc engine which matched to the automatic transmission. Trim levels were 200JK, 230JK, 230JM and 350JM. The car was based on the Nissan FF-L platform. In mid-2005, the Teana received chrome trimming on the bumpers,enlarged foglights, front legrests and newly-designed gauges. The car was also shortened slightly. XTronic CVT was also mated to all the engines.

In the People's Republic of China, the Teana was manufactured by the Dongfeng Motor Company, a joint venture with Nissan. In the neighbouring country of Pakistan, the Teana was known as the Cefiro and was assembled in Karachi. In Taiwan it was manufactured by Yulon Motor. Additionally, it is sold in India, Russia, Ukraine as well as in New Zealand and Australia where it competes with the locally produced Mitsubishi 380 and Toyota Aurion under the Maxima badge. The first generation Teana was also assembled in Thailand for sale in the ASEAN market, competing with similar D-segment cars such as the Honda Accord and the Toyota Camry.



» Read More About Nissan Teana