id:a1218056523b1943827
2004 Nissan Serena
Photo #1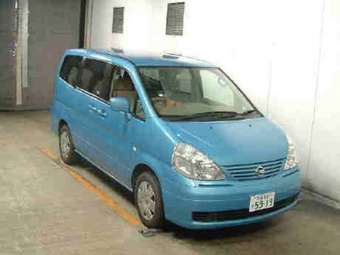 Photo Information (Width: 340px, Height: 255px, Size: 9Kb)
More photos of
Nissan Serena
Nissan Serena Problems
What is she saying to me in Jpanese?
2011, Serena is speaking to me in Japanese, I
can translate the first bit, its about
bluetooth...
Engine problem
2012, I did service on my car but surprise me
is after 3 week on the road the level of oil
goe...
Transmission cvt
2000, My car does not change gear ⚙️. On
the motion, the RPM allows read from 1 up to 6 ...
2004 Nissan Serena specs
| | |
| --- | --- |
| | The Nissan Serena started life as a very small people carrier, but grew larger over time. Earlier versions were FR layout with a live axle mounted on leaf springs. Later versions had a multilink independent rear suspension, and were FF layout or 4WD. The most popular versions were the 2.3 diesel engines and it was unusual as the MPV had 8 seats instead of the usual 7. |
Used Nissan Serena
These versions had 1.6 and 2.0 petrol or 2.3 diesel engines. Trim levels were LX, SLX, SGX and SGXi.

Until around 2002 the standard petrol engine was an SR20DE. In the early nineties, Nissan produced a version with the turbocharged SR20DET to carry people very rapidly. From 2002 onwards the Serena used the QR20DE and QR25DE. A variety of other engines were used over the years, including diesels specifically the CD20 (for commercial van version) and the CD20T 1973 cc Diesel Turbo for people movers.

Models were manufactured in Japan from 1991 onwards, many have now been imported into Australasia and the United Kingdom. Nissan produced many different versions FX, SX etc. Full-Auto (full time) 4WD versions were also produced providing greater stability and better handling. The 2.3 non turbo diesel was never manufactured for the Japanese market and its seating arrangement and interior fittings are not the same as the 2.0 petrol (SR20DE), 2.0 Diesel (CD20) and Turbo Diesel (CD20T) models manufactured in Japan for the local market.



» Read More About Nissan Serena