id:a1216920738b1909100
2003 Nissan Caravan
Photo #1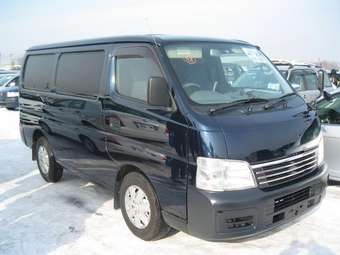 Photo Information (Width: 340px, Height: 255px, Size: 11Kb)
More photos of
Nissan Caravan
Caravan Troubleshooting
My Nissan caravan problem
2012, It's shut off on the road while
drivimg.i don't no why the sensor ok the
batte...
KA20petrol
2008, i have nissan caravan petrol engine does
not injection signal but it has spark it uses ...
Engine Oil
2002, Engine oil keeps dropping after few week
when the oil is changed. what is the possible p...
2003 Nissan Caravan specs: mpg, towing capacity, size, photos
Not to be confused with Dodge Caravan.

The Nissan Caravan is a van designed by Nissan for use as a fleet vehicle or cargo van. Outside Japan the car was sold as either Nissan Urvan or Homy. Several configurations of this van are available, including the GX (flat roof) and DX (taller roof) models, and several models with multiple engine configurations including the KA24DE, the KA20DE, a 2.7 liter TD27 diesel, and a 3 liter diesel, the ZD30DD, as well as the ZD30DDTi. The E25 chassis is also used in connection with the Isuzu Como with same engines offered by Nissan.
Used Nissan Caravan
From 1986 until 1987, a KD-ARE24 chassis was used. The 1988 to 1997 models used the E24 chassis, models from 1998 onward use the TA-QGE25 chassis and VWE25 chassis. Currently, the Caravan outsells the Toyota Hiace since 2004. One main reason is due it having more power and cargo room.

E20 / E21 / E22

The Urvan was a transporter vehicle manufactured by Datsun with 3, 5, 7 and up to 10 seats (minibus). It was especially popular in Europe, and was again very popular in Fire Departments and as ambulances in certain countries. It had a somewhat difficult handling, as it was heavy to steer, and did not come with power steering. Also, the gear shifter was located at the floor and went all the way up to the height of the hand, and had a slight curve. The gear shifter was nearly 80 centimetres long, so it was somewhat clumsy to shift, but it came with 5 gears, unusual in Europe at that time. It was delivered with a 1.6 litre (1596 cc) engine, a 1.8 litre (1798 cc) engine and a 2.0 litre (1998 cc) engine. It was produced from 1978 to 1983, when the Datsun brand ceased. The Urvan was rebadged into Nissan Vanette in 1984.



» Read More About Nissan Caravan