id:2096820
1987 Nissan Bluebird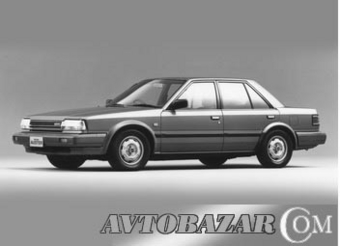 Photo Information (Width: 340px, Height: 246px, Size: 30Kb)
More photos of
Nissan Bluebird
Nissan Bluebird Problems
Brake lights on
1998, Brake lights won't go off. It is
not brake switch @@- we have tested that and it
o...
Please help
1995, electrical problem we do some convertion
of the engine car not starting some times its d...
Transmission pouring inlet
2001, Where do you pour transmission oil in the
nissan bluebird 2001 model? Where do you pour...
1987 Nissan Bluebird specs
The Nissan Bluebird is a compact- to medium-sized car launched in 1957. The nameplate still exists today on the Nissan Pulsar-based Nissan Bluebird Sylphy in Japan, and on the U13-based Nissan Bluebird in mainland China.

The Bluebirds traditional competitor was the Toyota Corona from almost the very beginning of the product line.
Used Nissan Bluebird
It is one of the longest-running nameplates from a Japanese automaker. It even spawned the S130 Fairlady Z/ 280ZX, which in turn spawned the Maxima (originally 910 Bluebird/ S130 Fairlady Z based), the 160J/ 710/ Violet/ Auster/ Stanza line, and the US-built Altima line.

Export versions were sold variously as the Datsun 510, Datsun 180B (with 160B and 200B versions) and the Datsun Bluebird. The Nissan Bluebird nameplate began appearing around 1982 as the Datsun marque was phased out in favour of Nissan.

From 1981 to 1985, Australia followed the Japanese convention by calling its car the Bluebird, and had a unique, facelifted rear-wheel-drive version for 1984 and 1985. That car was replaced in 1986 by the Nissan Pintara. It would be replaced by the successive Bluebird, also called Pintara, until 1992; then the range was brought in line with the Japanese model, for the U13 series from 1993 to 1997.

In the United States, the Bluebird was eventually sold as the Nissan Stanza. In 1992, the Stanza became the Nissan Altima. Currently, the Bluebird is not sold in North America; in 1998, the Altima was completely redesigned, becoming a model unique to the North American market.



» Read More About Nissan Bluebird