id:2138350
1999 Nissan Avenir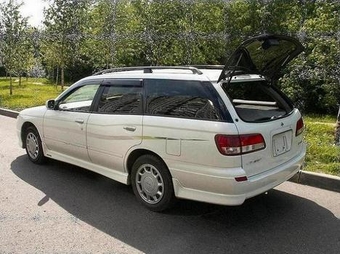 Photo Information (Width: 340px, Height: 254px, Size: 77Kb)
More photos of
Nissan Avenir
Nissan Avenir Problems
Faulty parts
1997, fuel pump system not working and
starter motor faulty and needs
replacement and also ...
Reversing issue
1999, when ever you go reverse it hunts badly
then as you reverse it usually konks out , I
thi...
Radiator fan noe working
1996, I have a W10 Nissan Avenir with the
SR18DE and the radiator fan wont come on, when
the c...
1999 Nissan Avenir specs
The Nissan Avenir is a line of station wagons beginning production in 1990 by Nissan of Japan, aimed primarily at the commercial market. It replaced the long-serving Nissan Bluebird wagon.

It was initially a station wagon version of the Nissan Primera, but was eventually spun off into its own line in 1998. The nameplate was seen in Japan, New Zealand, Russia and other countries importing used JDM cars.
Used Nissan Avenir
It has a lower budget version - the Nissan Expert which is still in production.

The W10 Avenir was initially available with either the 1.8 L SR18i or 2.0 L SR20DE in FWD or a 2.0 L SR20DE in 4WD ATTESA configuration. The FWD was available with either a 4 speed automatic transmission or a 5 speed manual, the 4WD only with the automatic. A 2.0 L Turbo-Diesel was added to the range and the 1.8 L SR18i models were given the better 1.8 L SR18DE with electronic gasoline injection in 1993.

A turbocharged model badged Salut GT turbo was introduced in 1995, this came with a 210 PS version of the SR20DET and was available only in 4WD with the automatic transmission.

The W11 model was introduced in 1998. Initially available with the 1.8 L QG18DE, 2.0 L SR20DE, 2.0 L SR20DET or the 2.0 L CD20ET Turbo-diesel. The QG18DE models were FWD only and available with either a 4 speed automatic or 5 speed manual transmission, the SR20DE models were an FWD manual or CVT transmission, the 4WD continued to be conventional automatic only. Once more the turbocharged 2.0 L SR20DET variants were available only in 4WD with the conventional 4 speed automatic. The power output of the turbo version increased to 230 PS.



» Read More About Nissan Avenir