id:a1212892741b1802211
2008 Mitsubishi Lancer
Photo #1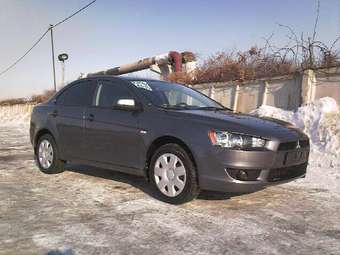 Photo Information (Width: 340px, Height: 255px, Size: 13Kb)
More photos of
Mitsubishi Lancer
Mitsubishi Lancer Problems
Noises in gear
1991, Sir I have mitsubishi lancer car I feel
since a week Noises in gear box.when car is
runn...
Car aircon compressor
2008, aircon compressor when turn on it
automatically cut off and cut on less one
minute , a...
Radio code
2001, I have a 2001 Lancer sedan, I needed to
change batteries and now I need the code for
the...
Formerly known as the Mirage, the new Lancer is Mitsubishi's latest entry into the compact car market.
2008 Mitsubishi Lancer specs
| | |
| --- | --- |
| | The Mitsubishi Lancer is a small family car built by Mitsubishi Motors. It has been known as the Colt Lancer, Dodge/ Plymouth Colt, Chrysler Valiant Lancer, Chrysler Lancer, Eagle Summit, Hindustan Lancer, Soueast Lioncel, Mitsubishi Carisma, and Mitsubishi Mirage in various countries at different times, and will be sold as the Galant Fortis in its home market from 2007. It has also been sold as Lancer Fortis in Taiwan with a different facelift compared to Galant Fortis from September 15, 2007. |
Used Mitsubishi Lancer
Since its introduction in 1973 over six million Lancers have been sold.
The Lancer (LA series in Australia, where it was called the Chrysler Valiant Lancer initially) was first launched in 1973 and proved to be particularly successful in rallies, a claim that it retains to this day. At the time of its launch, Mitsubishi had the Minica kei car and the compact Galant, so the Lancer served to fill the gap in the small to lower-medium segment of the growing Japanese market. Twelve models were launched, ranging from a basic 1.2 L sedan to a more powerful rally-derived 1600 GSR model.
There were three body styles, 2-door coupes, 4-door sedans, and a rarely seen 5-door station wagon.
Celeste
In 1975, the Lancer was complemented by a hatchback coupé called the Mitsubishi Lancer Celeste (also called the Mitsubishi Celeste or Colt Celeste in some markets; it was the Chrysler Lancer Coupé in Australia and the Plymouth Arrow in the United States), and sold with 1.4 L and 1.6 L options (a 2.0 L model was added later).



» Read More About Mitsubishi Lancer