id:a1244541500b2752849
2000 Lexus IS200
Photo #1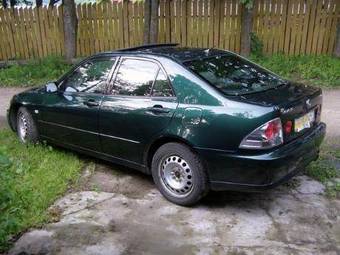 Photo Information (Width: 340px, Height: 255px, Size: 18Kb)
More photos of
Lexus IS200
Lexus IS200 Problems
Wont start
2003, ive just swapped batteries on car now
security light on dash wont let me start car
just ...
Lexus is 200
2003, Very bad sqealing from front i have
changed discs and pad and caliper is fine go
over 30...
Engine
2002, my car was overheating an I call mechanic
to check it for me after checking the an he sa...
| | |
| --- | --- |
| Engine size - Displacement - Engine capacity: | 1998 cm3 |
| Transmission Gearbox - Number of speeds: | Manual |
| Fuel Type: | Gasoline |
| Drive wheels - Traction - Drivetrain: | FR or RR |
| Price (out of date): | $16088 |
2000 Lexus IS200 specs, Engine size 2.0l., Fuel type Gasoline, Drive wheels FR or RR, Transmission Gearbox Manual
"Altezza" redirects here. For the type of after-market vehicle lights, see Altezza lights.

The Lexus IS is a series of entry-level luxury cars / compact executive cars sold by Lexus since 1999. The IS was introduced as an entry-level sport model slotted below the ES in the Lexus lineup (and outside of North America, the Lexus GS). The IS was originally sold under the Toyota Altezza (the word "altezza" is Italian for "noble") nameplate in Japan until the introduction of the second generation Lexus IS design. The Altezza name is still used at times to depict chromed car taillights like those fitted to the first generation model, known as 'Altezza lights' or 'Lexus-style' lights.
Used Lexus IS200
The first generation Altezza (codename XE10) was launched in Japan in October 1998, while the Lexus IS200 (JCE10) made its debut in Europe in 1999 and in North America as the IS300 in 2000. The first generation, straight-6-powered IS featured sedan and wagon variants. The second generation IS (GSE20) was launched globally in 2006 with V6-powered IS 250 and IS 350 sedan models. A high-performance V8 sedan version, the IS F, premiered in 2007. Hardtop convertible versions, the IS 250 C and IS 350 C, debuted in 2008. According to Lexus, the IS designation stands for Intelligent Sport.

Produced as a direct competitor to the luxury sport sedans of the leading European luxury marques, the Altezza/ IS was designed with a greater performance emphasis than typically seen on prior Japanese luxury vehicles. The design received critical acclaim at its 1998 launch, and was awarded Japan's "Car of the Year" honor for 1998-1999. A year later, Lexus began marketing the IS equivalent models in Europe, and the IS debuted in the U.S. as a 2001 model.



» Read More About Lexus IS200