1996 KIA Avella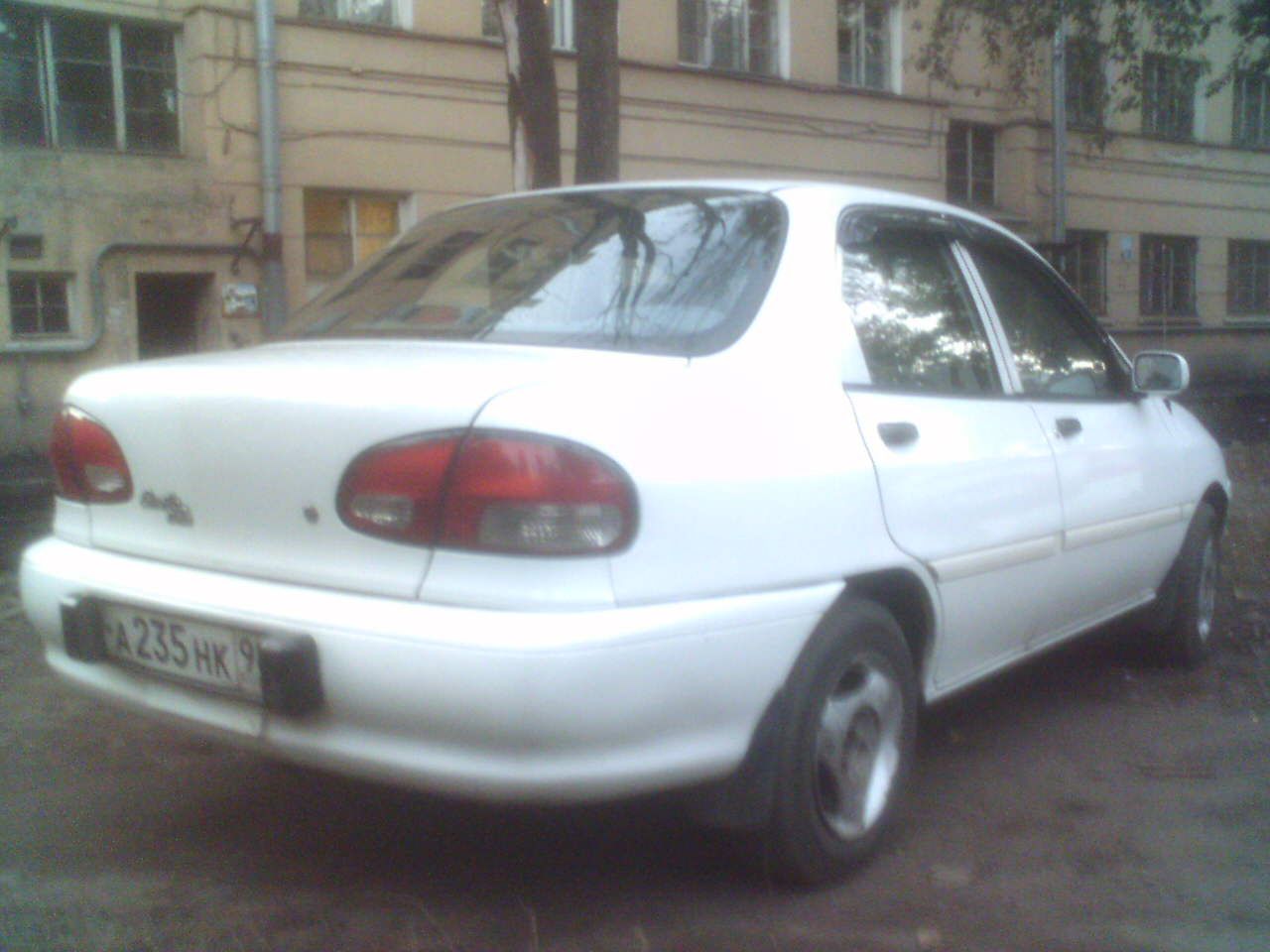 Photo Information (Width: 1280px, Height: 960px, Size: 95Kb)
More photos of
KIA Avella
Avella Troubleshooting
Car trouble
2001, My unit has a good engine start but after
awhile it shuts down especially if the aircon ...
Fuel System where is the Fuel Filter
1998, difficult to start on occasion and the
engine peters out unexpectedly The engine was
no...
Kia problem RPM
2007, the RPM goes down everytime i turn on the
aircon,high fuel consumption,RPM not stable ev...
| | |
| --- | --- |
| Engine size - Displacement - Engine capacity: | 1500 cm3 |
| Transmission Gearbox - Number of speeds: | Manual |
| Fuel Type: | Gasoline |
| Drive wheels - Traction - Drivetrain: | FF |
| Price (out of date): | $5200 |
1996 KIA Avella specs, Engine size 1500cm3, Fuel type Gasoline, Drive wheels FF, Transmission Gearbox Manual
| | |
| --- | --- |
| | The Kia Avella is a subcompact car produced by South Korean automaker Kia Motors from March 1994 to 1998. It was a five-seater available in sedan, three-door and five-door hatchback body styles. Sold worldwide as the Avella, it was rebadged as the Ford Aspire in North America and the Ford Festiva in Japan and Australasia. Sales of the Avella totalled 115,576 in 1994 but dropped to only 27,850 in 1998. The Avella was replaced by the Kia Rio. |
The Avella was available with two engines:
B3 EGi: 1.3L (1323cc) fuel injected 8-valve I4 making 73hp (DIN) (54kW) at 5000rpm and 99ft.lbf (135Nm) of torque at 3000rpm
B5 EGi: 1.5L (1498cc) fuel injected 8-valve I4 making 88.4hp (DIN) (65kW) at 5000rpm and 99ft.lbf (135Nm) of torque at 4000rpm
All Avellas came standard with a five-speed manual transmission, although all models could be optioned with a four-speed automatic. In the United States, the four-speed automatic was not available; the automatic had only three gears.
The Avella was suspended by MacPherson struts in the front and a torsion bar axle in the rear.
Seven trims were available:
GXi: 3-door, B3 EGi
Secrety STD: 5-door, B3 EGi
Secrety DLX: 5-door, B3 EGi
Secrety: 5-door, B5 EGi
Delta Si: 4-door, B3 EGi
Delta Si STD: 4-door, B5 EGi
Delta Si DLX: 4-door, B5 EGi
In Korean market, several more trims were available:



» Read More About KIA Avella