id:a1244721636b2758796
1999 Isuzu Wizard
Photo #1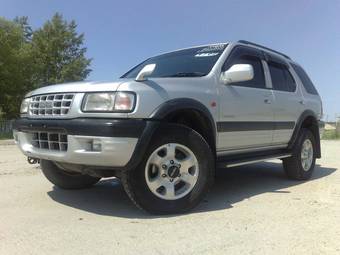 Photo Information (Width: 340px, Height: 255px, Size: 12Kb)
More photos of
Isuzu Wizard
Isuzu Wizard Problems
Henry Dirorimwe
1998, When you start it shivers shaking the
engine so we are looking for injerctor pump to
rep...
BOITE DE VITESSE
2000, je cherche une boite de vitesse automatic
ISUZU WIZARD serie 2000 Numero chassis UES25FW...
Motor wont turn over
2000, motor wont turn over. the battery went
flat over night so i brought another battery
the ...
| | |
| --- | --- |
| Engine size - Displacement - Engine capacity: | 3000 cm3 |
| Transmission Gearbox - Number of speeds: | Automatic |
| Fuel Type: | Diesel |
| Drive wheels - Traction - Drivetrain: | 4WD |
| Price (out of date): | $13902 |
1999 Isuzu Wizard specs, Engine size 3000cm3, Fuel type Diesel, Drive wheels 4WD, Transmission Gearbox Automatic
| | |
| --- | --- |
| | The Isuzu MU Wizard was a compact SUV made by Japan-based manufacturer Isuzu. The MU Wizard was introduced in 1990 as a 1991 model, and it ceased production in 2004. Isuzu manufactured several variations to the Wizard for sale in other countries. The United States has had two versions: the Isuzu Rodeo and (until 2002) the rebadged Honda Passport. Opel/ Vauxhall and Holden each also sold rebadged versions of the vehicle. It was also sold as the Chevrolet Frontera in Egypt and the Isuzu Frontier in South America |
Used Isuzu Wizard
A version of the Wizard called the Isuzu Rodeo was manufactured at Subaru-Isuzu Automotive, Inc. (now, Subaru of Indiana Automotive, Inc.) in Lafayette, Indiana. Isuzu was rumored to prefer the "ro-DEE-o" pronunciation over "ro-DAY-o". The vehicle was still considered an import, as 75 percent of its parts were made overseas.
First generation
1991–1992
The Rodeo made its debut in 1991. The mid-size SUV was available with either a 2.6L 4-cylinder engine or a 120hp (90kW), 3.1L V6 made by General Motors. An automatic transmission was available for the latter.

The vehicle was available with four-wheel drive with manually locking hubs on the S version and automatically locking hubs on the XS and top-of-the-line LS. Rear anti-lock brakes were standard feature, but not an option for all four wheels.

All models had a rear seat bottom which folded forward and rear seat back which folded down; this vastly extending the 35 cubic foot (1.0 m³) cargo area. The vehicle's lug wrench was stored under the seat bottom, concealed by a carpeted Velcro flap. The jack was located behind a plastic panel in the left-rear of the cargo area along with the rear-windshield-washer fluid reservoir if so-equipped.



» Read More About Isuzu Wizard