id:a1249871030b2944621
2001 Isuzu Rodeo
Photo #1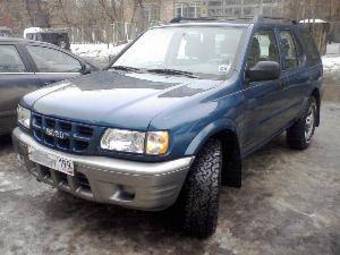 Photo Information (Width: 340px, Height: 255px, Size: 15Kb)
More photos of
Isuzu Rodeo
Isuzu Rodeo Problems
Truck won't turn over or start
2001, I had a cracked exhaust manifold which
blew my head gasket so we replaced botg of
those ...
Clutch chatter
1998, when shifting between gears the truck
chatters as I let the clutch out not just a
little...
Gear box
2000, السلام عليكم لماذا
لايوجد وكيل معتمد لشركة
ايسو...
| | |
| --- | --- |
| Engine size - Displacement - Engine capacity: | 2200 cm3 |
| Transmission Gearbox - Number of speeds: | Automatic |
| Fuel Type: | Gasoline |
| Drive wheels - Traction - Drivetrain: | FR or RR |
| Price (out of date): | $13312 |
The Rodeo comes with 2 engine options; the smaller 2.2-liter DOHC 16-valve 4-in-line with a modest 130 hp or the 3.2-liter DOHC 24-valve V-6 with 205 hp with choice of a 5-speed manual or 4-speed automatic. Also choose between 2 and 4 wheel drive.
2001 Isuzu Rodeo specs, Engine size 2.2l., Fuel type Gasoline, Drive wheels FR or RR, Transmission Gearbox Automatic
| | |
| --- | --- |
| | The Isuzu MU Wizard was a compact SUV made by Japan-based manufacturer Isuzu. The MU Wizard was introduced in 1990 as a 1991 model, and it ceased production in 2004. Isuzu manufactured several variations to the Wizard for sale in other countries. The United States has had two versions: the Isuzu Rodeo and (until 2002) the rebadged Honda Passport. Opel/ Vauxhall and Holden each also sold rebadged versions of the vehicle. It was also sold as the Chevrolet Frontera in Egypt and the Isuzu Frontier in South America |
Used Isuzu Rodeo
A version of the Wizard called the Isuzu Rodeo was manufactured at Subaru-Isuzu Automotive, Inc. (now, Subaru of Indiana Automotive, Inc.) in Lafayette, Indiana. Isuzu was rumored to prefer the "ro-DEE-o" pronunciation over "ro-DAY-o". The vehicle was still considered an import, as 75 percent of its parts were made overseas.
First generation
1991–1992
The Rodeo made its debut in 1991. The mid-size SUV was available with either a 2.6L 4-cylinder engine or a 120hp (90kW), 3.1L V6 made by General Motors. An automatic transmission was available for the latter.

The vehicle was available with four-wheel drive with manually locking hubs on the S version and automatically locking hubs on the XS and top-of-the-line LS. Rear anti-lock brakes were standard feature, but not an option for all four wheels.

All models had a rear seat bottom which folded forward and rear seat back which folded down; this vastly extending the 35 cubic foot (1.0 m³) cargo area. The vehicle's lug wrench was stored under the seat bottom, concealed by a carpeted Velcro flap. The jack was located behind a plastic panel in the left-rear of the cargo area along with the rear-windshield-washer fluid reservoir if so-equipped.



» Read More About Isuzu Rodeo