id:a1218746040b1965077
2004 Hyundai GETZ
Photo #1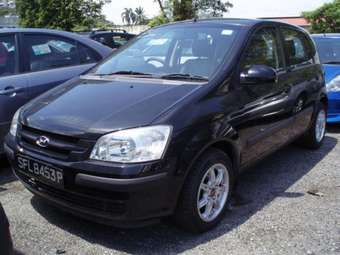 Photo Information (Width: 340px, Height: 255px, Size: 14Kb)
More photos of
Hyundai GETZ
GETZ Troubleshooting
Gl clutch
2004, Çlutch feels like its vibrating n
ßounds like a turbo when initially taking...
Fan
2008, when I turn the fan on, I can hear it
working but very little to almost no air comes
out...
Hyundai getz 1.1L
2011, i have a hyundai getz 1.1L, my problem is
when i turned on to start the unit it will not...
2004 Hyundai GETZ specs: mpg, towing capacity, size, photos
| | |
| --- | --- |
| | The Hyundai Getz (also sold as the Hyundai Click or Hyundai TB) is a supermini car produced by the Hyundai Motor Company, sold in most of the world but not the US or Canada. It is available in three and five door hatchback body styles, and with a 4-speed automatic transmission or 5-speed manual transmission. |
Used Hyundai GETZ
At launch in 2002, 1.1, 1.3 and 1.5-litre petrol or 1.5-litre turbodiesel engines were available. From 2004, a new 1.1 litre engine was introduced to the line and a 1.4 litre engine replacing the 1.3 litre. A 1.6 litre engine replaced the 1.5 litre. However, availability of engine options varies depending on market.
The 1.6 litre gasoline engine is unavailable in New Zealand, and some countries in South-East Asia and South America
Hyundai Getz performance:
1.1L SOHC engine 65hp (48kW) 0–100 km/ h: 15.4 sec., top speed 159km/ h (99mph) MT
1.4L DOHC engine 97hp (72kW) 0–100 km/ h: 10.6 sec., top speed 176km/ h (109mph) MT
1.6L DOHC engine 106hp (79kW) 0–100 km/ h: 9.6 sec., top speed 184km/ h (114mph) MT
2006 facelift
A facelift for the 2006 model saw the Getz receiving a 4 cylinder 1.5 litre diesel option, upgraded dash and interior fascia and trim, new front and rear styling, driver and front passenger air bags. In the UK air conditioning and side airbags were fitted to all models as standard.



» Read More About Hyundai GETZ