id:a1246588829b2808069
2008 Hyundai Elantra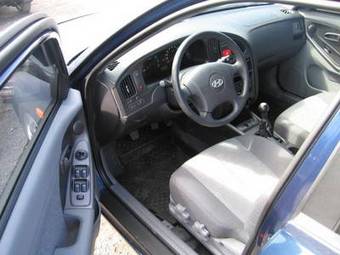 Photo Information (Width: 340px, Height: 255px, Size: 16Kb)
More photos of
Hyundai Elantra
Hyundai Elantra Problems
Cut off engine
1998, no power when you try to accelerate,the
engines cuts on its on when stationary,there is
...
Atitude
2008, falla en los sensores de EPS a veces, el
volante se pone duro, no permite girarlo y al...
Car keeps cutting off
2001, car keeps cutting off, and check engine
light is on .they said i need the t plug fixed,
...
| | |
| --- | --- |
| Engine size - Displacement - Engine capacity: | 1600 cm3 |
| Drive wheels - Traction - Drivetrain: | FF |
| Price (out of date): | $12592 |
The Elantra is offered as a four-door sedan and four-door wagon with 1.8-liter/130-hp 4 cylinder or a 2.0-liter/140-hp 4 cylinder. Both have the option of a 5-speed manual or a 4-automatic and optional ABS.
2008 Hyundai Elantra specs, Engine size 1.6l., Drive wheels FF
The Hyundai Elantra (sold in South Korea as the Avante) is a compact car from Hyundai of South Korea launched in 1991.

The Elantra was formerly sold as the Lantra and the Avante in some Australian and European markets.
Used Hyundai Elantra
This gave rise to disagreement from other motor manufacturers, and the name was standardized as "Elantra" worldwide in 2001.

Between 1996 and 1998, the Elantra was marketed as the Bimantara Cakra (1.5litre petrol) and the Bimantara Nenggala (1.8litre petrol) in Indonesia.

The Hyundai Elantra is listed as United States Environmental Protection Agency (EPA) Picks Ten Most Fuel Efficient Vehicles. The Elantra ranked #2 in 2006 and 2007 in the category of most fuel efficient sedans, and also was ranked as the most efficient non-hybrid mid-sized sedan.

Hyundai Elantra SE awarded 2008 Consumer Reports "top pick". Hyundai Elantra SE was among the top 10 vehicles for 2008 unveiled in the magazine's issue. The magazine's annual ratings, based on road tests and predicted safety and reliability are considered highly influential among consumers.

Hyundai Elantra earned Consumer Reports' 'excellent' rating in predicted reliability. Hyundai Elantra SE is Consumer Reports top-ranked 2008 vehicle amongst 19 other compacts and subcompacts (however, the less expensive GLS trim line, without the electronic stability control standard on the SE trim line, and with less sporty tires, was ranked closer to the middle of the group). Beating out such high-quality competitors as the Honda Civic, Toyota Corolla and Toyota Prius.



» Read More About Hyundai Elantra