id:a1218540760b1958579
2001 Honda Stream
Photo #1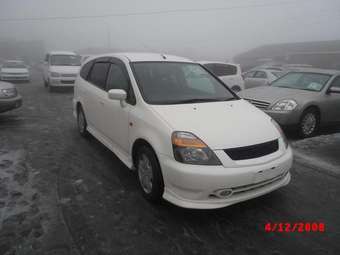 Photo Information (Width: 340px, Height: 255px, Size: 8Kb)
More photos of
Honda Stream
Stream Troubleshooting
Gears
2001, its displaying SRS on the dashboard and
it produces a sound like its running dry of
some...
Coolant advised for use in 2000 Honda Stream
2000, What coolant do you advise me to use in
my Honda Stream? My engine is an RN-3. Type
I-Vt...
Spare parts
2001, Where can I find spares in Zimbabwe? I am
looking for shock absorbers rear: S2610 - S7C ...
2001 Honda Stream specs: mpg, towing capacity, size, photos
For the 3-wheeler of the same name see a section in Honda Gyro

The Honda Stream is a compact MPV manufactured by the Japanese automaker Honda since 2000. For Japan it gets gasoline direct injection 1.7L and 2.0L engines with improved fuel efficiency. It was facelifted in January 2004.
Used Honda Stream
Its shape is a mix of a compact MPV and a station wagon; its height (1.55 m) makes it hard to classify it precisely. Handling characteristics are more like a "hot"-hatchback than any other comparable compact MPV.

A second generation 2007 model has been officially presented on the 13th July 2006.

The 1st generation Honda Stream was a response to the sale success of the contemporaries like Mazda Premacy which released earlier. It was largely based on the Civic, with the same flat chassis but added 100mm in length to accommodate the third row of seats. Honda described it as a sporty 7-seater.

The Honda Stream was available with a 1.7l D17 engine and a 2.0l K20, equipped with a 4-speed automatic transmission and a 5-speed automatic transmission with sequential mode respectively. A manual version was also offered in the UK.

Manufacturer Honda Production 2007 – 2009 Class Compact MPV Body style(s) 5-door minivan Wheelbase 2.74 m (107.1 in) Length 4.575 m (179.1 in) Width 1.695 m (66.7 in) Height 1.57 m (62.6 in) Related Honda Civic

The new Honda Stream (body codes: RN6/ RN8) is offered internationally in two specification levels. The lower-end spec will feature the R18A 1.8 liter SOHC i-VTEC (2-stage) engine with a 5-speed automatic gearbox (and a 5-speed manual transmission in some countries). The higher-end spec called the Stream RS-Z will feature the R20A 2.0 liter SOHC i-VTEC (3-stage) engine equipped with a CVT transmission and 7 speeds paddle shift function (tiptronic). The RS-Z model also comes with firmer damping shock absorbers with anti-roll/ sway bar for the rear setup.



» Read More About Honda Stream