id:2714338
1998 Hino Ranger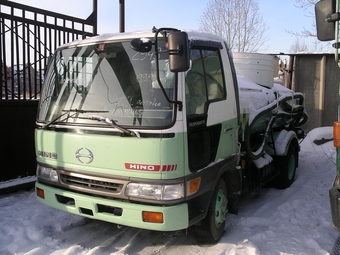 Photo Information (Width: 340px, Height: 255px, Size: 76Kb)
More photos of
Hino Ranger
Hino Ranger Problems
Injector diesel pump
1990, I am having a problem with my injector
pump of my hino ranger its chassi nr is FD2HLA
12...
Front screen
1998, I cant get a front screen for my hino
ranger truck.mine is broken in an accident.
Please...
Location of screen in fuel line
1988, I know there is a fuel tube screen after
the filter but can not locate.would have to be ...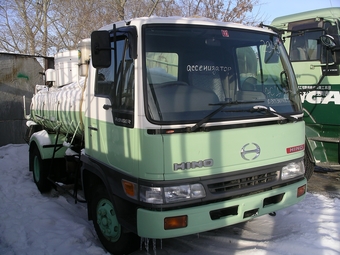 Photo Information (Width: 340px, Height: 255px, Size: 77Kb)
1998 Hino Ranger specs
The Hino Ranger is a medium to heavy duty cab-over truck manufactured by Hino Motors.

The Ranger is part of Hino's F-Series Truck with model code such as FC, FD, FE, FF, FG, FL, and FM. The further the alphabet means the higher payload. The 4WD models are FT and GT. The SG is Tractor Head to pull container. In certain countries, the Ranger is only available as medium or heavy truck, while the small or low payload models like FA and FB were replaced by Hino Dutro. In Japan, the small Ranger FA was rebadged as Toyota Dyna.
Used Hino Ranger
Hino has competed in the Dakar Rally since 1991, with the Ranger FT 4WD truck driven by the Japanese rally driver, Yoshimasa Sugawara. He always finished in the Top 10 in Camion Category. For 17 straight years, Hino always won the under 10,000 cc class, and captured 1st overall in the 1997 event.

The Hino Ranger KL was introduced in Japan in 1969. In Australia, it was sold as Toyota KL300. The Ranger KL-series were offered as short wheelbase KL300, medium wheelbase KL340 and KL350, as well as long wheelbase KL360 and KL380. The Ranger line-up spawned into KB, KR, KQ, and other models. Engines are 4.5 liter DQ100 and 5.0 liter EC100.

Early models have round headlights, facelift models come rectangular headlights.

Japanese model production ended in 1989, Indonesian model lasted until 2003.

Models in Indonesia are FF172, FF173, FL176, FM226, and SG221. The FF and SG were marketed as Super Ranger, the FL and FM are Jumbo Ranger.



» Read More About Hino Ranger