id:a1201838648b1544677
2005 Great Wall Sing
Photo #4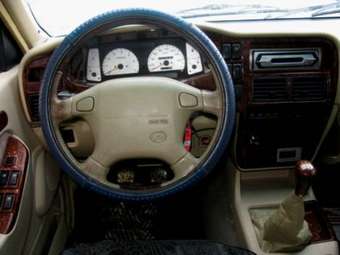 Photo Information (Width: 340px, Height: 255px, Size: 11Kb)
More photos of
Great Wall Sing
Great Wall Sing Problems
Spare parta
2005, need spare parts for car and motor Also
need catalogue for motor and car in general Xx...
Sing car
2007, Please send for me spear parts cod list
for sing car 6510a1c (inside and out side
handle...
Engine
2005, Currently, I own car Great Wall Sing 2.3
SUV CC6510S1 Gasoline Engine. The details of my...
2005 Great Wall Sing specs
Great Wall Motor Company Limited (simplified Chinese: 长城汽车; traditional Chinese: 長城汽車; pinyin: Cháng Chéng Qì Chē) (SEHK: 2333), sometimes abbreviated as GWM or GW, is the largest privately owned automotive manufacturer in China.

The Great Wall Motor Company is the first privately owned auto company of China listed on the Hong Kong stock market and has obtained HK$1.7 billion of financial investment. After more than 10 years of rapid growth, GWM has accumulated enormous economic capacity, becoming the number one taxpayer consecutively for three years in the City of Baoding. It is among "the Top 500 Enterprises of China in 2004" and one of the best brands in national automobile industry. GWM took its first step to become a truly global company by exporting CUVs to the competitive European market in September 2006. GWM already sells cars in about 60 (mostly developing) countries and exports account for about a third of the company's sales.
Great Wall Motor specializes in large size vehicle models, ranging from CUVs through SUVs to full-sized Pick-ups.
CUV
SUV
Great Wall Safe
Great Wall Sing
Great Wall Pegasus
Pick-up
Great Wall Wingle
Great Wall Sailor
Great Wall Socool
Great Wall Deer
City car
Compact MPV
Great Wall Motor main manufacturing location is in Baoding, China. The total area of the facility is 1,800,000.00m2 and can currently produce up to 300,000 units per year. In 2007 the total production capacity is to reach 400,000 units per year.

On 23 August 2007 in Ukraine opened a new manufacturing facility on KrASZ.

It is believed that Great Wall Motor will open an overseas manufacturing location. As of September 2006, it is believed that GWM has some near-future plans on opening a new manufacturing facility in Tatarstan, Russia, in a special economic zone .



» Read More About Great Wall