id:a1242153044b2684530
1998 Ford Transit
Photo #1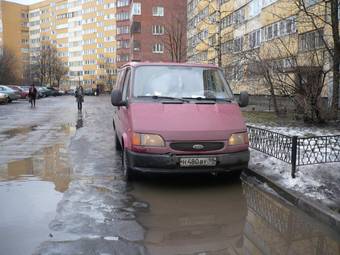 Photo Information (Width: 340px, Height: 255px, Size: 17Kb)
More photos of
Ford Transit
Ford Transit Problems
Coded engine
1999, there is nothing wrong with the battery
because the radio horn and wipers work
perfectly...
No Turbo
2005, As I was driving,the temperature became
to the end.red symbol.then the car motor
stopped...
Vehicle problem
1998, the water is boiling in less than 25km
drive lost header tank cap (expantion
tank),does ...
| | |
| --- | --- |
| Transmission Gearbox - Number of speeds: | Manual |
| Fuel Type: | Diesel |
| Drive wheels - Traction - Drivetrain: | FR or RR |
| Price (out of date): | $7373 |
1998 Ford Transit specs, Fuel type Diesel, Drive wheels FR or RR, Transmission Gearbox Manual
Not to be confused with Ford Transit Connect.

The Ford Transit is a range of panel vans, minibuses and pickup trucks, produced by the Ford Motor Company in Europe.

The Transit has been the best-selling light commercial vehicle in Europe for 40 years, and in some countries the term "Transit" has passed into common usage as a generic term applying to any light commercial van in the Transit's size bracket.[citation needed]
Used Ford Transit
Over 5,000,000 Transits have been produced since 1965 across three basic platforms with several "facelift" versions of each.
Known in Germany as the "first generation" Transit
Unlike the British-built Transit "family", the first production Ford to wear the "Transit" badge was a van built in Ford's Köln (Cologne) plant in Germany. It was introduced in 1953 as FK 1000 (Ford Köln carrying 1000kg). From 1961, this vehicle was called the Ford Taunus Transit. Production of this model ceased in 1965.
Naming system
The German vehicle was not widely exported, and the "Mark 1" tag has commonly been applied, retrospectively, to the 1965-78 British model (see below). Whilst there have been three basic Transit platforms since 1965, the various facelifts and upgrades over the years have been referred to using a conflicting range of "Mark" numbers, with some sources counting a facelift as a new "Mark", some not. Ford's own historical look back at Transit production, published for the launch of the 1994 model, avoids the issue by referring to generations of Transit by years produced. Therefore this article attempts to make mention of all the common naming systems.



» Read More About Ford Transit