id:2289017
1998 Daihatsu Terios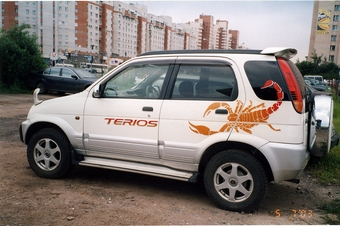 Photo Information (Width: 340px, Height: 226px, Size: 74Kb)
More photos of
Daihatsu Terios
Daihatsu Terios Problems
Stalls when put in gear
2008, Good idle in P and N but as soon as it is
moved to drive it stalls. What can be the prob...
Turbo charger
1999, the car is smoking a lot and we changed
rings but it keeps on smoking and oil dripping
f...
Daihatsu terios 1997
1997, 1rave counting moving up abd down when
idling 2 stalling when braking to stop 3
taking...
| | |
| --- | --- |
| Engine size - Displacement - Engine capacity: | 1300 cm3 |
| Transmission Gearbox - Number of speeds: | Automatic |
| Fuel Type: | Gasoline |
| Drive wheels - Traction - Drivetrain: | 4WD |
| Price (out of date): | $8700 |
1998 Daihatsu Terios specs, Engine size 1.3l., Fuel type Gasoline, Drive wheels 4WD, Transmission Gearbox Automatic
| | |
| --- | --- |
| | The Daihatsu Terios is a mini SUV, first released in 1997 by the Japanese car manufacturer Daihatsu. The engine was a modified Daihatsu Charade 1.3 litre engine or 660cc kei car engine, with constant four wheel drive or two wheel drive. It comes in 5-speed manual transmission or 4-speed automatic transmission. The width of the first generation Terios is lesser than 1500mm to fulfill the kei car regulation. The kei car's Terios is shorter without rear pillar-window to fulfil the kei car's length regulation. The second generation of Terios is co-developed by Daihatsu and Toyota. |
Used Daihatsu Terios
Overview
The first generation of its history was available as 4-door wagon, and the smaller model( Kei car ) called Terios Kid, which was only released in Japan.

In 2000, Daihatsu gave the Terios a mild facelift both in the exterior and interior of the vehicle. A new chrome grille replaced the plastic black grille. The high-grade model had an addition of electric front windows, central locking, rear seat head restraints, alloy wheels, roof rails and a roof-mounted rear spoiler. Mechanically, the 1.3 litre SOHC four cylinder engine fitted to the previous model had been replaced by the new 1.3 litre DOHC four cylinder engine. Power was also increased by 3kW (4hp). A sport version of K3-VET engine were produced on Japan in several period.

In Australia, a sports limited edition series was introduced in 2001 with only 200 units being available. The vehicle had body colour matching bumpers, different from the two-tone bumper colour on the standard model. Rear spoiler and sunroof became standard. The interior was updated with metallic paint finish on the center console and instrument



» Read More About Daihatsu Terios