id:2162994
1999 Daihatsu Pyzar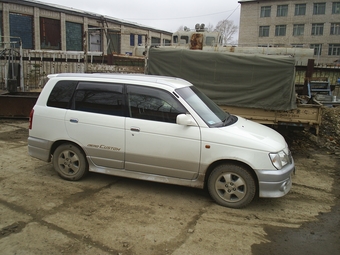 Photo Information (Width: 340px, Height: 255px, Size: 73Kb)
More photos of
Daihatsu Pyzar
Daihatsu Pyzar Problems
Gear box not engaging
1997, The gear box lost drive while driving
send for repair but problem not solved. It is
only...
Some spare parts
1998, the engine and the radator , i want to
change them even by second hand parts if
availabl...
Spare parts
2000, There is a problem of finding spare parts
for 2000 make Daihatsu Pyzar. Unable to find...
| | |
| --- | --- |
| Engine size - Displacement - Engine capacity: | 1600 cm3 |
| Transmission Gearbox - Number of speeds: | Manual |
| Fuel Type: | Gasoline |
| Drive wheels - Traction - Drivetrain: | 4WD |
| Price (out of date): | $5500 |
1999 Daihatsu Pyzar specs, Engine size 1600cm3, Fuel type Gasoline, Drive wheels 4WD, Transmission Gearbox Manual
The Daihatsu Pyzar, sold in some export markets as the Daihatsu Gran Move, was a mini MPV manufactured by the Japanese automaker Daihatsu from 1996 to 2002. It was based on the chassis of the Daihatsu Charade.

The Pyzar had a 50/ 50 split folding rear bench seat, which provided for it being registered as a four-passenger vehicle in most countries. With the rear seat folded, the Pyzar's cargo compartment had length of 1.50m.
Used Daihatsu Pyzar
Mid-life facelift
After three years in the market, the Pyzar was afforded a mild facelift - the front fascia was slightly altered (new headlights had clear turn signals) and body decals were rearranged more in line with the smaller Daihatsu Move's styling. Concurrently, a version of the 1.6L engine replaced the previous 1.5L in export markets.
Drivetrain
The Pyzar was a FF layout car with a transversely-mounted engine. The 1.6L version could also be had with full-time all-wheel drive, available only in the domestic market.
Engine
1498 cc HE-EG 16V SOHC I4, 90PS (66kW), 119N·m (88lb·ft) (export markets - until 1999)
1498 cc HE-EG 16V SOHC I4, 100PS (74kW), 128N·m (94lb·ft) (domestic market)
1589 cc HD-EP 16V SOHC I4, 91PS (67kW), 126N·m (93lb·ft) (export markets - introduced in 2000)
1589 cc HD-EP 16V SOHC I4, 115PS (85kW), 140N·m (103lb·ft) (domestic market - introduced for 1999)
Transmissions
5-speed manual
4-speed automatic


» Read More About Daihatsu Pyzar