id:a1332243007b7007698
2012 Citroen C4
Photo #1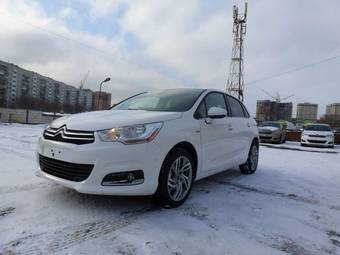 Photo Information (Width: 340px, Height: 255px, Size: 11Kb)
| | |
| --- | --- |
| Engine size - Displacement - Engine capacity: | 1598 cm3 |
| Transmission Gearbox - Number of speeds: | Automatic |
| Fuel Type: | Gasoline |
| Drive wheels - Traction - Drivetrain: | FF |
| Price (out of date): | $26529 |
2012 Citroen C4 specs, Engine size 1598cm3, Fuel type Gasoline, Drive wheels FF, Transmission Gearbox Automatic
The Citroën C4 is a small family car produced by French automaker Citroën since autumn 2004. The C4 was designed to be the successor to the Citroën Xsara.

It is mechanically similar to the Peugeot 308, which was launched in 2007.
Used Citroen C4
A revised version with new front end and dashboard revisions will go on sale in 2008/ 09.
Three-door coupé and five-door hatchback are the available body styles, with petrol or diesel engines.
A sedan version is also marketed in certain markets. In China, a sedan version is locally built and sold as the Citroën C-Triomphe and is four-door sedan with a separate trunk. The sedan version is also manufactured in Argentina, where it is sold alongside the three-door version. The sedan is sold in Brazil and Hungary as the C4 Pallas, and will be exported to Spain, where it will be sold as the C4 Berline.
A seven-seater compact MPV version, the Grand C4 Picasso, was introduced in 2006, while a five-seater called the C4 Picasso was introduced in 2007.
Flexifuel
Citroën C4 BioFlex is a bioethanol flexible fuel vehicle.
Hybrid
Hybride HDi
Citroën C4 Hybride HDi is a hybrid diesel-electric car. PSA Peugeot Citroën could market its Hybride HDi vehicles in 2010 .



» Read More About Citroen C4