id:a1243435268b2725058
2008 Chery A15
Photo #1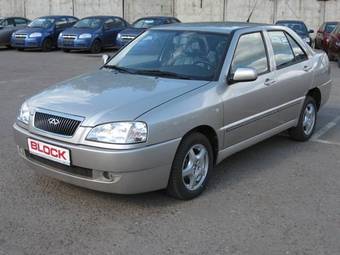 Photo Information (Width: 340px, Height: 255px, Size: 14Kb)
More photos of
Chery A15
Chery A15 Problems
Electric shut down
2007, During park. Once I left my foot the
motor stop.and I need to keep pressing on the
speed...
Instrumental
2008, my cars bearing have a broblem and when
driving making sounds,,it i must change that
and...
Juant is broken
2011, Dear sir, As seen from the photos, the
problem is at the broken jaunt. It is broken
sud...
| | |
| --- | --- |
| Engine size - Displacement - Engine capacity: | 1596 cm3 |
| Transmission Gearbox - Number of speeds: | Manual |
| Fuel Type: | Gasoline |
| Drive wheels - Traction - Drivetrain: | FF |
| Price (out of date): | $7825 |
2008 Chery A15 specs, Engine size 1596cm3, Fuel type Gasoline, Drive wheels FF, Transmission Gearbox Manual
| | |
| --- | --- |
| | The Chery Cowin (in Chinese: 旗云 (Qiyun), codename A15, also known as the Flagcloud, or Amulet) is a 4 door, 1600cc petrol engine liftback produced in Wuhu, Anhui, China and Russia, Ukraine, Iran and Malaysia by Chery Automobile. It is based on the first generation SEAT Toledo, which in turn, was based on the second generation Volkswagen Golf. The vehicle also has a fuel-efficient, low-emission engine. Chery Cowin already has an authorization to market it in Europe along with Russia, and South America. |
Used Chery A15
The company launched the car in South East Asia in August 2003. The Flagcloud is now exported to more than 30 countries in Southeast Asia, Latin America, and Eastern Europe. Chery has plans to export to the vehicle to the United States within the next few years (2010); prices range from $7,300 to $12,500 USD.
Safety
It has several safety features including antilock brakes and electronic brake force distribution for driving in bad weather. However, the Russian car magazine AutoReview reported that an A15 it had crashed in accordance with the EuroNCAP test standard performed even worse than the 1-starred Brilliance BS6 Sedan, and the dummy used had to be dismantled into pieces in order to be removed. Consequently, AutoReview is calling for the car to be withdrawn from the market. Chery, however, alleges that this might be driven as much from the Chinese carmaker's successes as from its failings, given the fact that the test was done in a facility owned by Autovaz, which saw its market position threatened by the Chinese upstart.[citation needed]



» Read More About Chery A15