id:a1218544461b1958785
The 7-series BMWs are powered by a DOHC 4.4-liter V-8 with 282 hp or a SOHC 5.4-liter V-12 with 322 hp. All come with a 5-speed automatic and ABS is standard.
2003 BMW 7-SERIES
Photo #3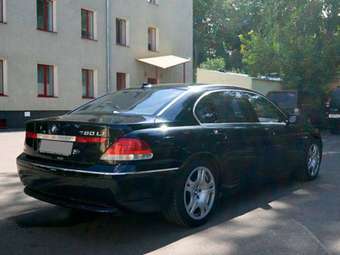 Photo Information (Width: 340px, Height: 255px, Size: 11Kb)
More photos of
BMW 7-SERIES
7-SERIES Troubleshooting
Tansmission
1991, wont reverse but it will go foward it
runs find but the transmission has a little
leak....
2003 BMW 7-SERIES specs: mpg, towing capacity, size, photos
The BMW 7 Series is a line of full-size luxury vehicles produced by the German automaker BMW. Introduced in 1977, it is BMW's flagship car and is only available as a sedan.

There have been five generations of the 7 Series:
Used BMW 7-SERIES
BMW E23 (1977–1986)
BMW E32 (1987–1994)
BMW E38 (1994–2001)
BMW E65/ E66 (2002–2008)
BMW F01 (2009-present)
Main article: BMW E23

Models offered:

Main article: BMW E32

The E32 was introduced in 1987, with the 730i and 735i featuring 3.0 L and 3.5 L straight-6 engines respectively, and a new, 5.0 L, 300horsepower (220kW) V12 engine for the 750i. In 1992, 3.0 L and 4.0 L V8 engines were added to the lineup (730i and 740i). All models were also available in a stretched 'L' version, which had 10 cm of extra legroom for the rear passengers. See BMW E32 article for more information.

U.S figures

Main article: BMW E38

The E38 generation (1995-2001) had a five-speed automatic. The engine variants in Europe were 725tds, 728i, 730i, 730d, 735i, 740i (4.0 and 4.4 L), 740d and 750i (with a 5.4L V12 322bhp (240kW; 326PS) engine, as was used in the Rolls-Royce Silver Seraph).



» Read More About BMW 7-SERIES