BMW Models
BMW photos, specs - Car Pictures & Images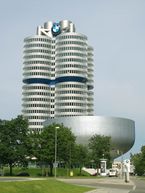 Bayerische Motoren Werke AG (info) (BMW), (English: Bavarian Motor Works) is an independent German automobile manufacturer founded in 1916. It also produces motorcycles, and is the parent company of both the MINI and Rolls-Royce car brands.
Main article: History of BMW
After World War I, BMW (and Germany) were forced to cease aircraft (engine) production by the terms of the Versailles Armistice Treaty. The company consequently shifted to motorcycle production in 1923 once the restrictions of the treaty started to be lifted, followed by automobiles in 1928.[citation needed]
Used BMW
The circular blue and white BMW logo or roundel is often alleged to portray the movement of an airplane propeller, to signify the white blades cutting through the blue sky. An interpretation that BMW adopted for convenience in 1929, which was actually twelve years after the roundel was created. In fact, the emblem evolved from the circular Rapp Motorenwerke company logo, from which the BMW company grew. The Rapp logo was combined with the blue and white colors of the flag of Bavaria to produce the BMW roundel so familiar today. The early success of the outstanding BMW IIIa inline-six aviation engine, from 1917-18 in World War I, with the Luftstreitkräfte in a limited number of Fokker D.VII fighters, as well as a number of prototype "inline-six" fighters from various manufacturers, might have actually influenced the BMW logo's design.

BMW's first significant aircraft was the BMW IIIa inline-six liquid-cooled engine of 1918, much preferred for its high-altitude performance.[citation needed] With German rearmament in the 1930s, the company again began producing aircraft engines for the Luftwaffe. Among its successful WWII engine designs were the BMW 132 and BMW 801 air-cooled radial engines, and the pioneering BMW 003 axial-flow turbojet, which powered the tiny, 1944-45-era jet-powered "emergency fighter", the Heinkel He 162 Salamander, and was tested in the A-1b version of the world's first jet fighter, the Messerschmitt Me 262.[citation needed]

By 1959 the automotive division of BMW was in financial difficulties and a shareholders meeting was held to decide whether to go into liquidation or find a way of carrying on. It was decided to carry on and to try to cash in on the current economy car boom enjoyed so successfully by some of Germany's ex-aircraft manufacturers such as Messerschmitt and Heinkel. Therefore the rights to manufacture the tiny Italian Iso Isetta were bought using a modified form of BMW's own motorcycle engine. This was moderately successful and helped the company get back on its feet. The dominating shareholder of the BMW Aktiengesellschaft since 1959 is the Quandt family. Stefan Quandt, Johanna Quandt and Susanne Klatten (born Quandt) together own about 46% of the stocks. The rest is in public float.



» Read More About BMW