id:a1250653231b2965774
2003 Volkswagen Caddy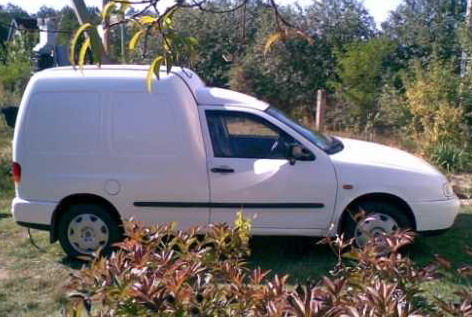 Photo Information (Width: 472px, Height: 317px, Size: 35Kb)
More photos of
Volkswagen Caddy
Volkswagen Caddy Problems
Mixes oil with water
2004, my caddy mixes water and oil at the
expansion tank. i tried replaced cylinder head
gaske...
No power
2003, hi,my caddy has no power when i drive at
first,it's like the turbo isn't worki...
Start problem
1996, jag har förlorat koden i startnyckel
hur kan man koppla förbi start spärr...
| | |
| --- | --- |
| Engine size - Displacement - Engine capacity: | 1400 cm3 |
| Transmission Gearbox - Number of speeds: | Manual |
| Fuel Type: | Gasoline |
| Drive wheels - Traction - Drivetrain: | FR or RR |
| Price (out of date): | $5796 |
2003 Volkswagen Caddy specs, Engine size 1400cm3, Fuel type Gasoline, Drive wheels FR or RR, Transmission Gearbox Manual
The name Volkswagen Caddy has been used by the Volkswagen Group to describe four different Caddy models:

Typ 14 was derived from the Volkswagen Golf Mk1,
Typ 9U was derived from the Škoda Felicia pick-up,
Typ 9K was derived from the Volkswagen Polo Mk3 (VW Caddy) / SEAT Ibiza (SEAT Inca) platform,
Typ 2K was derived from the Volkswagen Touran platform with Golf Mk5 front suspension.
Released in 1980, the first Volkswagen Caddy is a light pickup truck, and van based on the Volkswagen Group A1 platform, shared with the small family car Volkswagen Golf Mk1.
VW Typ is:
Caddy debuts internationally as a Rabbit
The Caddy came into fruition when VW was experimenting with Golf derivatives, a station wagon and a pickup.
Volkswagen of America was interested in the pickup, when VW released the Caddy it first was produced at the VW Westmoreland County plant in Pennsylvania from 1979 to 1982.
It was known in North America as the VW Rabbit Pickup with trim levels such as LX and Sportruck.
The Caddy competed with other mini-pickups such as the Ford Courier and Subaru Brat of that time.
Caddy debuts in Europe
The Caddy nameplate was never used in the USA (since the name is slang for Cadillac motor car division). Its first use was in Europe in 1982 when the Caddy was debuted on the European Market.



» Read More About Volkswagen Caddy