id:1046898
1997 UAZ 31512 027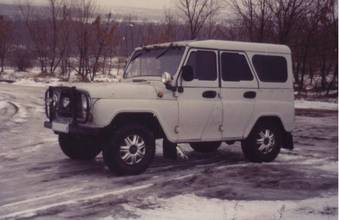 Photo Information (Width: 339px, Height: 220px, Size: 12Kb)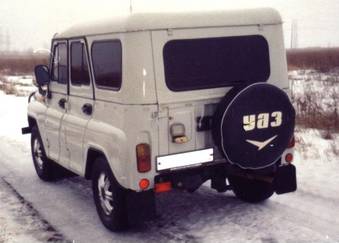 Photo Information (Width: 339px, Height: 243px, Size: 12Kb)
| | |
| --- | --- |
| Engine size - Displacement - Engine capacity: | 65535 cm3 |
| Transmission Gearbox - Number of speeds: | Manual |
| Fuel Type: | Gasoline |
| Drive wheels - Traction - Drivetrain: | 4WD |
| Price (out of date): | $3500 |
1997 UAZ 31512 027 specs, Engine size 65535cm3, Fuel type Gasoline, Drive wheels 4WD, Transmission Gearbox Manual
UAZ (УАЗ), Ulyanovsky Avtomobilny Zavod (Ульяновский Автомобильный Завод) is an automobile manufacturer based in Ulyanovsk, Russia which makes SUVs, buses and trucks. Production started in 1941.

Creation

In 1941, after the start of Great Patriotic War, Stalin's government made every effort possible to try to save Soviet industry from being captured by the German army. So, in 1941, because of rapid advances by the Germans on Moscow, a decision was made to relocate ZIS - a Moscow car and freighter manufacturing plant - further away from the front line. Such a place was Ulyanovsk, a town in Volga region with existing infrastructure and skilled workers, but out of reach of German army. At that time, the plant was considered a subsidiary of ZIS. By 1942, the production of artillery shells and cars began.
In 1943, when the prospect of Germans winning the war was less likely, a decision was made to separate the relocated plant from ZIS. This was a part of general after-war policy conducted by Stalin's government in which relocated plants were separated into different units, since all the required buildings had already been erected. The existing plants before relocation were filled with (often - German) equipment, thus bursting the industry.
A logical choice for the newly created plant was to produce military and paramilitary cars, mostly due to its distance from the border. Therefore, in mid-1950es the production of the only Soviet offroad car, GAZ-69, was moved to Ulyanovsk. This car marked a beginning of a famous line of offroad vehicles manufactured by the plant.
Golden age
By mid-60es, the new management of the plant completed development of first original [U]AZ cars. The GAZ-69 offroad vehicle was replaced by UAZ-469. UAZ-469 was very similar in design to the original Jeep - a sturdy, but not-so-comfortable car that was able to drive in virtually any terrain and was easy to fix. The Uaz-469 reached legendary status for its reliability and off-road ability. The car didn't enter the personal use market until late 80s and was reserved for police forces and paramilitary (its commercially-available analog was produced by LuAZ, which was too close to border to be associated with the military).



» Read More About UAZ