id:a1218328207b1951265
2003 Toyota Wish
Photo #2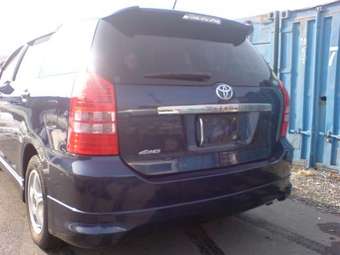 Photo Information (Width: 340px, Height: 255px, Size: 10Kb)
More photos of
Toyota Wish
Toyota Wish Problems
Transmission
2012, No drive... cvt transmissionI had the
transmission opened twice and replaced clutches
an...
Speedometer not showing true speed
2013, Hi Since I bought my Wish, the
speedometer shows 10km/h faster that my actual
speed. Is...
Boot doesn't latch.
2005, Because the boot isn't latching
closed. The red door dash light stays on and
has fl...
2003 Toyota Wish specs
| | |
| --- | --- |
| | The Toyota Wish is a Compact MPV produced by Japanese automaker Toyota since 2003. It is available as a six and seven-seater, equipped with either a 1.8 or 2.0-litre gasoline engine. It is positioned below the Ipsum and above the Spacio in Toyota's minivan range. |
Used Toyota Wish
Apart from Japan, the Wish is also assembled in Thailand (for Thailand, Malaysia, and Singapore only) and Taiwan (for Taiwan only).
2003
The Wish was developed under code name "760N" by the team, lead by Chief engineer named Takeshi Yoshida and was introduced to the public for the first time at Tokyo Motor Show in October 2002 (Commercial vehicles & welcab show) and then launched in Japan in January,20th 2003, under a massive publicity campaign with Japanese singer Hikaru Utada. The TV commercial features her song Colors, which coincides with the launch of her new CD-single. The car was marketed under the "Wish Comes True" slogan.

Codenamed ZNE10G (FWD) and ZNE14G (4WD), it uses a 1.8 L 1ZZ-FE engine, producing (JIS) 132 PS and 170N·m (125lb·ft). It is only available with four-speed automatic. A 2.0 L version (codenamed ANE11W for the six-seater version and ANE10G for the seven-seater version) was launched in April 2003. Equipped with the 1AZ-FSE direct-injection engine, it has (JIS) 155PS (114kW) and 192N·m (142ft·lbf). Variants with the 2.0 D-4 engine are only available with a CVT gearbox.



» Read More About Toyota Wish