id:a1236239240b2404400
2008 Toyota Vitz
Photo #4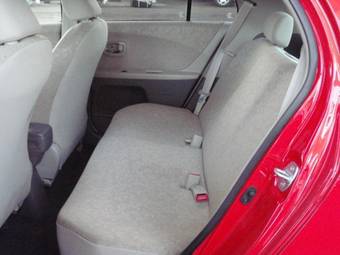 Photo Information (Width: 340px, Height: 255px, Size: 12Kb)
More photos of
Toyota Vitz
Toyota Vitz Problems
Obd2
2002, I everyone I need help for my Toyota vitz
Rs 2002 ncp10 I want to know the wirering conn...
Noise
2009, I hear some noise when slowly
accelerating,sometimes it gets much noisier and
other time...
Cranking but not starting
2012, I parked my car driving,but after one
single night,I tried to start it but it's
not...
2008 Toyota Vitz specs
This article is about the Yaris/ Echo hatchback, for the Yaris/ Echo sedan see the Toyota Belta/ Toyota Platz

The Toyota Yaris (sold in different markets as the Toyota Vitz and Toyota Echo) is a line of subcompact cars first launched by Toyota in 1999, designed by Sotiris Kovos. The Yaris is a 3 and 5 door hatchback automobile.
Used Toyota Vitz
In Europe, the Americas, Australia, New Zealand and South Africa, the Vitz is sold as the Yaris Liftback (or simply Yaris). Up to 2005, the Vitz was known as the Echo Hatchback in Canada, Hong Kong, Australia and New Zealand, with the Toyota Platz sedan being known as the Echo; the first generation Vitz was never sold in the US. Since 2006, the Vitz and Belta are marketed in US/ Canada as the Yaris Hatchback and Yaris, respectively.

The Toyota Belta sedan, which replaced the Toyota Platz, shares underpinnings with the Vitz. However, while the Vitz was designed at Toyota's European design studios, the Belta was designed at Toyota's Japanese design studios – two completely different design projects for similar cars marketed toward different demographics. While the outgoing Vitz and Platz models look and feel virtually alike (the only things the cars don't share is the front clip, lights, rear doors, and bodies from behind the B-pillar), the new Vitz and Belta are much more subtly related. Sharing a similar but different dashboard, they do not employ the same components. The cars share only a frame and the drivetrain options. The sheet metal is completely different.



» Read More About Toyota Vitz